11may(may 11)3:00 pm02jun(jun 2)4:00 pm2019 MFA THESIS EXHIBITION "TEMPORARY CLASH"(may 11) 3:00 pm - (june 2) 4:00 pm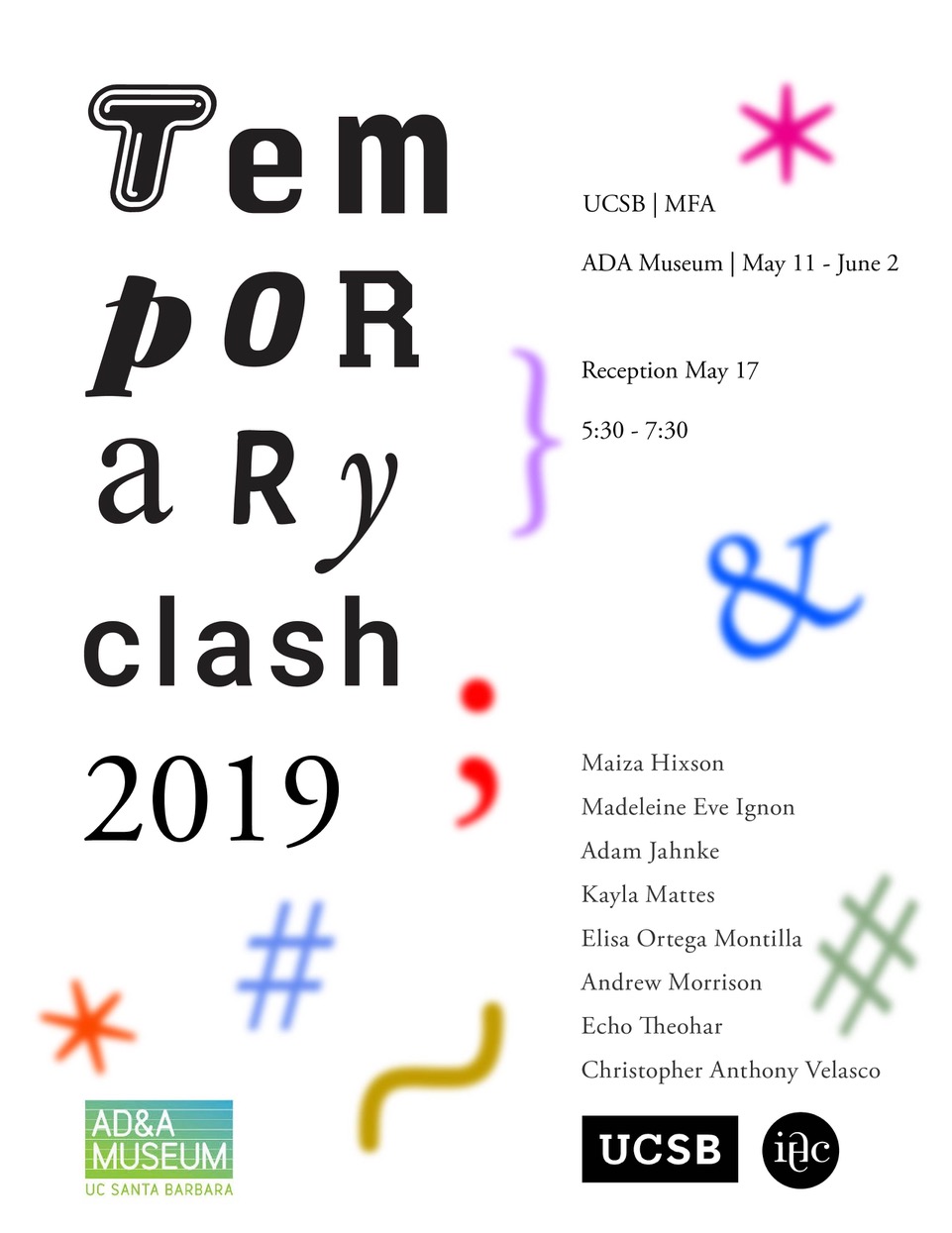 Event Details

News Media Contact:

Maiza Hixson, UCSB MFA Candidate 805-668-9429, maizahixson@ucsb.edu

2019 MFA THESIS EXHIBITION "TEMPORARY CLASH" OPENING AT UCSB

(Santa Barbara, CA.) – The Department of Art is pleased to present the 2019 MFA thesis exhibition entitled Temporary Clash at the Art, Design and Architecture Museum, UC, Santa Barbara. The exhibition will be on view from May 11-June 2, 2019. A reception will be held on Friday, May 17, 5:30-7:30 pm at the AD&A Museum on the campus of UCSB. The exhibition is free and open to the public. The Museum is located at 552 University Rd, Santa Barbara, CA 93106 and is open from Wednesdays-Sundays, 12-5 pm.

[What] civilizations and peoples leave us with as the monuments of their thought is not so much their texts as their vocabularies, their syntaxes, the sounds of their languages rather than the words that they spoke.

Michel Foucault

The title of the show Temporary Clash, chosen by the artists, is significant. It connotes a moment of collision (appropriate when you consider that these previous strangers came together for a brief two years) to engage with each other in an intensive program of research and studio production. But this title is also meaningful as it alludes to the many ways these artists have grown artistically and been changed by their time spent together. An intentionally anti- thematic exhibition, Temporary Clash features a wide array of creative practices ranging from computational art to sculptural installation. Artists present works that operate independently of one another while offering multiple overlapping visual languages and subjectivities within the AD&A Museum. Their friendly camaraderie, eager determination and professionalism have made this graduating class a pleasure to work with and the engagement with the fruits of their labor are both stimulating and intriguing to encounter.

These eight young artists—whose enigmatic works are exhibited at the AD&A museum—have developed individual projects that collectively incorporate a broad range of materials, aesthetics and methods. From discrete objects that transcend their mundane origins to paintings, photography, data programming projections, and weavings they present an array of idiosyncratic sensibilities. These different approaches simultaneously accentuate each other's singular voices whilst harmonizing as a whole.

Echo Theohar creates compelling computer-generated images and texts that investigate the ways in which visualized data, computer graphics and programming shape social, cultural and political discourse. Large scale animated projections with superimposed texts that mutate and multiply provide endless new juxtapositions for the viewer to try to decipher.

Seemingly in dialogue with Echo's work, due to their text based digital underpinnings, Kayla Mattes' focus on political activism through screen-based texts and digital messaging are more formally and politically distinct. Her method of weaving exquisite tapestries, and using digital strategies to reflect the rage and anxiety of our current cultural climate creates and contrasts the hand-made craft with the culturally defined content.

Madeleine Ignon, who also utilizes text in her large banner-like paintings yet again distinguishes herself by incorporating a variety of methods in one canvas. With words as image, some clear others barely legible they intertwine in passages of pure abstract paint or subtle representational imagery. One doesn't know if they are related or just fragments of conflicting narratives in a visual diary, as if scribbled down the morning after a vivid dream.

Andrew Morrison's work on the other hand disrupts any written language motif and explores how a singular visual image can elicit a moment of recognition. His energetically painted images freeze a moment of action such as a depiction of a performance of the San Carlos Apache Tribe of which is a member. By documenting Native American activities on their own terms through regular visits to their reservation he wishes to bring to light his and their experiences within his vibrant community.

Maiza Hixson's work is a curious combination of multiple forms such as sculptural constructions, paintings, video and performance all inter-connecting conceptually with each other in a playful yet serious reflection of our cultural and political systems. She is Interested in how place and environment influence us and how her multi-faceted work can engage many subjects such as affordable housing, environmental threat through research into Spanish colonial architecture and a feminist critique of wealth and privilege.

Elisa Ortega Montilla explores multiple fundamental aspects of her experiences as a feminist, her Spanish identity and feelings about her acculturation while living in the US, as well as her commitment to environmental sustainability.

Utilizing second hand clothing, wood scraps and old discarded jewelry she cuts, carves, assembles and ties these elements together to form sensual evocative shapes that allude to the female body whilst transforming and repurposing their materiality.

Adam Jahnke, a mechanic by trade holds an inherent curiosity for architecture and engineering. His interdisciplinary practices guide his artistic gestures towards

mechanization, pattern and repetition. Often initiated by a photograph, the camera serves as a map making tool for his visually engaging installations and sculptures. To Adam his use of photography is ritualistic and like the labor involved in his constructions reflects his studio practice.

Christopher Velasco provides another contrast to the specificity of each artist's explorations. His emotionally charged, manipulated and defaced polaroid photographs appear to be decaying in front of our eyes. Using cutting, injecting fluids, burning and bleaching he transforms the figurative images into abstractions, layering multiple effects then magnifying them and printing them 40 times larger. The techniques make the images appear to be physically textured even though they are completely flat. Like Trompe l'oeil paintings they both fool the eye while eliciting a palpable, visceral response.

We are delighted to have their work on view and are thrilled to showcase some of the terrific artists that are part of the graduate program in the Department of Art. This exhibition however wouldn't have been possible without the generous support of many individuals. The Department of Art would like to thank the many sponsors with a special thank you to the staff of the Art, Design and Architecture Museum: Michelle Faust, Preparator; Todd Anderson, Assistant Exhibition Designer; Mehmet Doğu, Chief Designer; Susan Lucke, Registrar; Bruce Robertson, Director and Carol Talley, Graduate Advisor, Department of Art. Also, to the contributors without which this project would not have been as successful. The Interdisciplinary Humanities Center as well as the College of Letters and Science, UCSB's Graduate Division and The Department of the History of Art and Architecture.
Time

May 11 (Saturday) 3:00 pm - June 2 (Sunday) 4:00 pm