09mar(mar 9)10:00 am13(mar 13)4:00 pm8 by 810:00 am - 4:00 pm (13)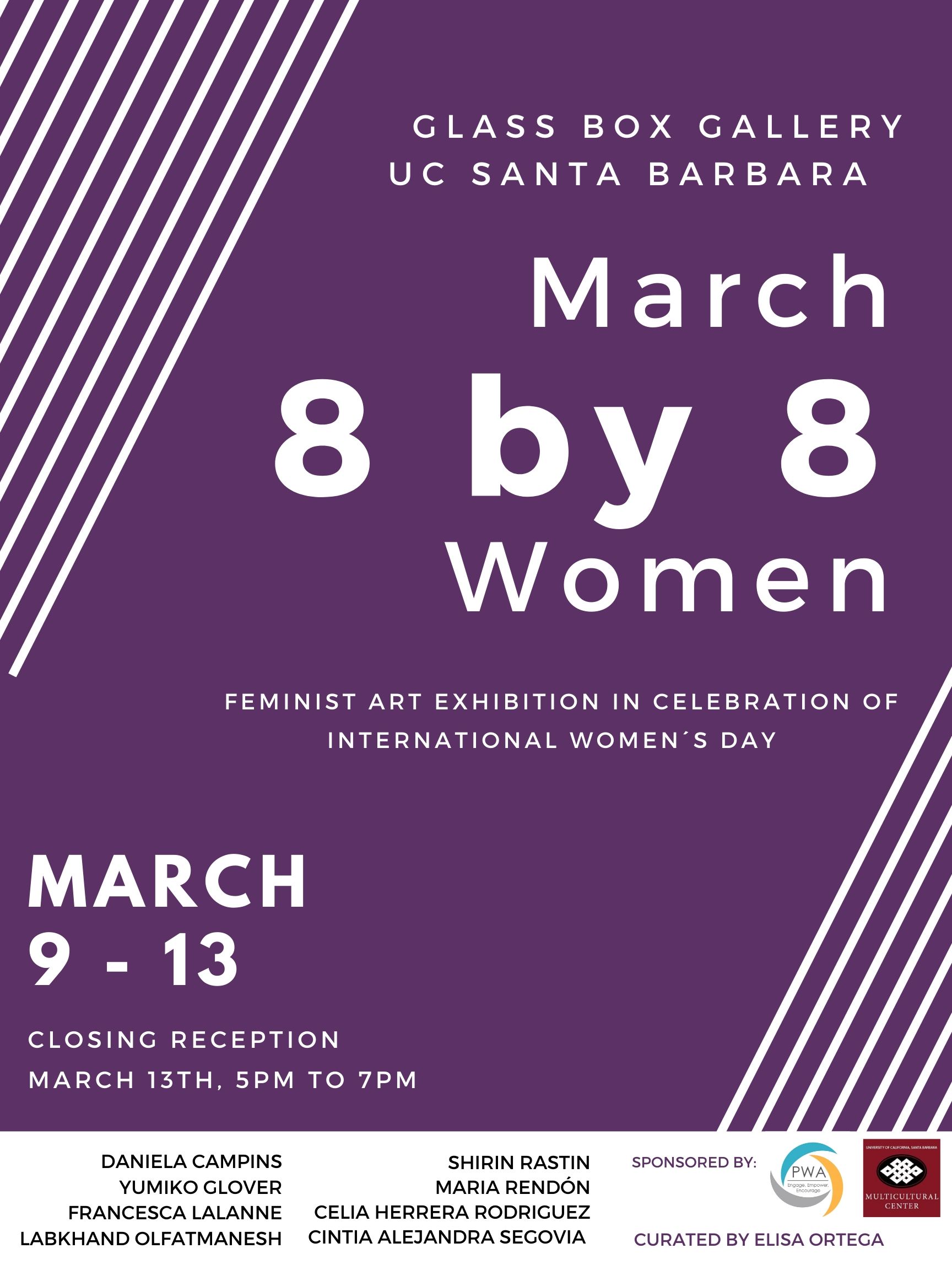 Event Details

 

FEMINIST ART EXHIBITION TO OPEN AT UC SANTA BARBARA 

 

(Santa Barbara, CA.) – The Glass Box Gallery is pleased to announce 8 by 8, an intersectional multi-media group exhibition that celebrates International Women's Day on March 8th  and features 8 women artists who live in California and have international backgrounds. The works explore experiences of being a woman and/or living between two cultures.

In an era of constant threats to multicultural values and women's rights, this exhibition aims to create a space for sororidad, sisterhood and mutual support, for creative practices and values. Through art, these 8 artists respond to personal experiences and those of their communities in an intersectional approach to feminism that challenges viewers both critically and creatively. With works that range from overtly political to subtly poetic, they address issues of identity as well as larger global and social issues such as exile, sexism, and women's rights.

8 by 8  will be on view from March 9th to March 13th, 2020 at the Glass Box Gallery at UC Santa Barbara. The Glass Box Gallery is located at the Art Department on the UCSB campus (552 University Road, Isla Vista). Parking is available on campus in adjacent lots 22, 23, and 29 with a parking permit ($4 after 5pm; they can be purchased there) .

A closing reception will be held on March 13th, from 5pm to 7pm. Food and refreshments will be served. This event is free and open to the public.  Gallery hours:Mon-Friday, 9am to 6pm.

March 8 by 8 Women is generously sponsored in part by The Multicultural Center, Professional Women's Association  and the UCSB Art Department.

For more information, please contact Elisa Ortega Montilla

at 214-728-7084 or elisa00@ucsb.edu

Daniela Campins was born in Leeds, England and grew up in Venezuela. Campins received her MFA from the University of California Santa Barbara and her BFA from California State University Long Beach. Campins is a recipient of the Virginia Commonwealth University Fountainhead Arts Fellowship. Her works have been exhibited at a number of institutions and galleries in Southern California, including Claremont Graduate University, Fellows of Contemporary Art, Brand Library & Art Center, the Torrance Art Museum, New Wight Gallery in UCLA, the dA Center for the Arts, East side International, TSLA/LA, Durden and Ray (Los Angeles), Launch LA, as well as, Reynolds Gallery in Richmond, Virginia, Art Baboo 146 in Japan, and Scotty in Berlin, Germany.

Yumiko Glover was born and raised in Hiroshima, Japan. She received her BFA from the University of Hawai'i, and with the Chancellor's Fellowship, she completed her MFA from UC Santa Barbara, where she was subsequently awarded the post-graduate Artist-In-Residence for 2017-2018. Glover has exhibited her artwork in solo exhibitions at the Brian Ohno Gallery (Seattle, WA) and the Silo118 Gallery (Santa Barbara, CA), group exhibitions at PØST (Los Angeles, CA), Left Field (San Luis Obispo, CA), and the Art, Design, and Architecture Museum (Santa Barbara, CA), as well as curated group exhibitions including the Biennial Artists of Hawai'i (2013), Modern Love: 20th Century Japanese Erotic Art (2015),and 21st Century Women (2019) at Honolulu Museum of Art(Honolulu, HI), and iBiennale MMXIX (Honolulu HI). Glover was selected as one of the Top 25 Fine Artists for the 100 Best Annual 2014 & 2015 issues of Creative Quarterly, the Journal of Art & Design. In 2018, her work received second place in the Art Room Gallery international competition. Glover's recent work, Transience, was exhibited at the Los Angeles International Airport (LAX, Terminal 7) in 2019. Glover lives in Santa Barbara, CA where she is a lecturer in the department of Art at University of California, Santa Barbara.

Francesca Lalanne was born in Miami, Florida, in 1980, and raised in Haiti until she moved back to Florida during Haiti's coup in 1988. At a young age she expressed interest in architecture and attended Miami's Design and Architecture High School, which led her to her higher education at the Florida International University. There, she completed her Bachelor of Design in Architectural Studies and Fine Arts in 2005. In 2012 she earned her Master of Fine Arts at the Rochester Institute of Technology and received their Wallace Center Purchase Prize Award. She has had several solo exhibitions and participated in a variety of groups exhibitions along with performance and public art installations. In 2015 she was a Joan Mitchell Grant Nominee and invited artist for Khoj International Artist Workshop in Pune, India. Francesca's contemporary work is influence by various sources that range from architecture to psychology. Her multidisciplinary practice often explores dual concepts such as life and death, resistance and obedience, and control and freedom. Lalanne lives in Los Angeles, California.

 

Labkhand Olfatmanesh's photography explores themes of feminism, racism, and isolation, and how these forces take shape in the United States and her birthplace of Iran. Labkhand's photography has been exhibited in several countries, including most recently Japan and the U.K., and she has been awarded high honors from The Los Angeles Center of Photography (First Place, 2018) and LensCulture (Jurors' Pick, 2018), among others. While earning a B.A. in graphic design, she became deeply passionate about photography, a medium that allowed her to tell intensely personal stories about her subjects, as well as herself and her ongoing feeling of alienation in Iran. Through photography, installation, and sculpture, Labkhand created a solo show featured on Iranian national TV in 1996. Her practice has grown from these concerns and ideas of inclusion, identity, representation, role playing, gender representation, and art-as-healing. She is most interested in her work relating and honoring uncanny reactions towards unexpected experiences, the places where the unreal becomes real for participants and viewers. Another recurring theme in Labkhand's work is borders and immigration, a theme shaped by her own uprooting. In 2003, she immigrated to Cyprus, an island nation whose citizens cannot move freely due to borders controlled by Greece and Turkey. Three years later, during a short stay in the U.S., she won second place at the International Society of Photographers exhibit. Labkhand lives and works in Los Angeles, California.

 

Shirin Rastinis an Iranian-born visual, performance, and video artist based in Orange County, California. She studied at a private graphic design Institute in Iran from 1994 through 1998. Shirin received her BFA in Drawing & Painting from CSU Fullerton in 2012, and her MFA at Washington University in St. Louis, Missouri in 2016.She has shown her work and done public performances in Missouri, Texas, California, Dubai, Georgia, and Prague.Her work reflects on Middle Eastern history and politics to mirror the effects they have had on its peoples' lives and behavior.Her recent works are figurative paintings using mixed media on vinyl. In this series, she revisits personal anecdotes from formative years during her childhood. She translates these scenes as motifs in the style of children's book illustrations to juxtapose a lighthearted sense of childlike innocence against the normalized oppression of a religious regime and war. She specifically examines women's roles in her own life as well as within the Islamic Republic as a whole.This series is part of her ongoing graphic novel project, which she has been working on since 2018.

Maria Rendón's paintings and installations explore themes of transformation, hybridity, ritualistic experience, and landscape. Rendón, a Mexico City native, received a BFA from Universidad Anáhuac. She received her second BFA from Art Center College of Design in Pasadena and completed her MFA at the University of California, Santa Barbara in 2014. Exhibitions include: SUR Biennial "Espacio Entre / Entre Espacio" at Rio Hondo College, "Two by Two" at PØST, Los Angeles. "Shift, Stretch, Expand: Everyday Transformations" at Museum of Contemporary Art Santa Barbara (Satellite), "Missing Rib" at Atkinson Gallery, "Alter" at Art Design and Architecture Museum UCSB, "Rock Paper Candy" at Gallery 1328 UCSB, "GLAMFA" at California State Long Beach, "Unholy Mess" at Santa Barbara Museum of Art – McCormick House. Her work is featured in New American Paintings #123, Graphis #355 and Taschen's book, "Illustration Now". She lives and works in Santa Barbara and Los Angeles, California.

 

Celia Herrera Rodríguez (Xicana/O'dami) is a painter, and performance and installation artist whose work reflects a full generation of dialogue with Chicano, Native American, Pre-Columbian, and Mexican thought.Originally from Sacramento, Herrera received her B.A. in Art & Ethnic Studies from CSU-Sacramento and a M.F.A. in Painting from the University of Illinois, Urbana-Champaign. She has also shown Internationally at the University of Cork (Ireland), The Centro Cultural Santo Domingo (Oaxaca, México), and the Centro Colombo Americano (Medellin, Colombia), among other places. Her work is permanently housed in a number of private and public collections, including the Mexican Fine Arts Center Museum in Chicago, and the Institute of American Indian Art Museum of Santa Fe.

 

Cintia Alejandra Segovia was born in Mexico, where she worked in the entertainment industryfor American and Mexican networks. Two significant elements have greatly influenced Cintia's life: Mexican culture and the effects of mass media on contemporary society. She earned her bachelor's degree in mass communication sciences at Tec de Monterrey in Mexico City. She studied a Certificate program in Advertising from the University of California, Los Angeles. Cintia graduated from a Master of Arts in Visual Arts at California State University Northridge, in 2011. Using humor and wit in her native and adopted languages, Spanish and English, her creative work delves into issues surrounding immigration, politics, stereotypes, and identity. These elements informed her Master of Fine Arts degree at California State University, Long Beach, in 2017, where she focused on video and installation concepts for moving images. Cintia spends her time between Los Angeles and Mexico City, where she is developing research and working with politically engaged community members and youth deported to Mexico by the American government on initiatives in art and activism. Cintia's work is in the permanent collections of the Museum of Latin American Art, the National Immigration Law Center, and the University of Dayton. It has been exhibited in the Los Angeles Municipal Art Gallery, the Torrance Art Museum, the Spartanburg Art Museum, University of Dayton, and Shangai University, among other venues.

The Professional Women's Association (PWA) at UC Santa Barbara is campus-affiliated organization that aims to promote equity by providing opportunities for women to meet, connect, and learn together. PWA offers professional development and networking events throughout the year, including an annual professional development conference each spring. For more information, visit pwaucsb.com.
Time

9 (Monday) 10:00 am - 13 (Friday) 4:00 pm
Location

Glass Box Gallery, UCSB