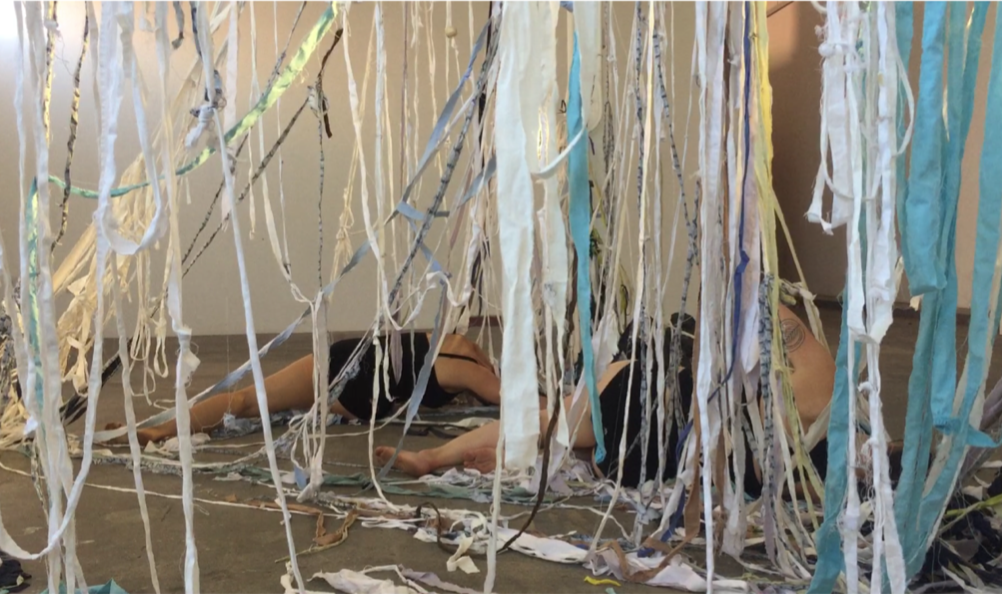 Event Details
AL ALBA
GLASSBOX GALLERY, UC SANTA BARBARA
Stephanie Miracle and Elisa Ortega with the collaboration of
Juli Farley April 22 to April 26
Performance: Friday 26th, 6:00 pm to 6:30pm
Reception: 6:30pm to 7:30pm
Al Alba brings together the practice of three artists, Stephanie Miracle (dancer, director, and choreographer), Juli Farley (dancer), and Elisa Ortega (visual artist). In a one-time installation performance, they come together to explore through different mediums their relationships to fiber, history, and the female body.
Al Alba (which translates to At Dawn), a mythical Spanish song written by the singer-songwriter Eduardo Aute in 1975, is an allegory about freedom and the right to live. For decades and for multiple generations, it has symbolized the fight for democratic rights negated by the Franco regime and the last barbaric executions perpetrated during the dictatorship, which lasted nearly 40 years. This installation/performance explores themes that echo political struggles in the past and present: the tensions between constraint and movement, repression and freedom, and stasis and transformation.
Elisa Ortega's fiber installations, made of second hand bed-sheets that have been reused in multiple installations and artworks, continues her family tradition of re-purposing materials. What was a result of economic austerity during the Franco regime has become an ethical choice that evokes our need for environmental sustainability, while at the same time questioning our culture of consumerism and mass production. Viewers are invited to witness two bodies housed within the fiber environment Ortega has created. Stephanie Miracle uses a minimalist movement structure based on breath, shifts, and support onto which onlookers can project their own associations. A score by Omar Zubair offers a backdrop against the sound of ripping fabric by Ortega.
Also on display in the Glassbox Gallery is Six Studies of Mother with Child, an experimental video series created by Stephanie Miracle. Folding and fracturing tiny moments from the life of a new mother, these short kaleidoscopic film studies show both my body and my new baby's body as we weave and collapse into each other over and over again, as if my child is birthing me and I am birthing him. The choreography is not only of the two bodies but also of our surroundings.
Glimpses into a mundane world of motherhood suddenly become dazzlingly disorienting.
Stephanie Miracle is an independent choreographer and teaching artist with one foot in Europe and the other on the West Coast. She holds na MFA in Dance from the University of Maryland and a BA in Dance from Belhaven University. A 2014/15 German Fulbright Fellow in the Performing Arts, Stephanie has focused her research on the embodied practice of tanztheater. She became a certified teacher of Klein Technique™ in 2017. Her teaching practice explores the liveliness of space and the possibilities of precision and chaos in the body. Stephanie's choreography has been described as "iconic and nuanced…with an irreverence that makes you smile unconsciously" (Rick Westerkamp, 2014). Her choreographic projects have been presented in Germany, Portugal, Hungary, Ireland, Italy, Mexico, Russia, and various cities across the US. As a performer she has worked with Deborah Hay, Shannon Gillen, David Dorfman, Susan Marshall, PWDT, and was company member with FTS for two years. She is the director of Fakers Club and is the guest choreographer for Folkwang Tanzstudio's 2018-19 season.
Juli Farley is from Chicago, Illinois and holds a degrees in Dance and Anthropology from Northwestern University (2011) and a Masters in Business from Pepperdine University (2018). In Chicago, she danced with Same Planet Different World Dance Theater (now Same Planet Performance Project), Molly Shanahan/Mad Shak, and appeared in several dance films by Monica Thomas/montom arts. Juli has performed in works by Robyn Mineko Williams, Julia Rhoads, Stephanie Martinez and Netta Yerushalmy. In Santa Barbara, Juli dances with Selah Dance Collective and Nebula Dance Lab, and also cultivates her own work. She is also a board member of Art Without Limits.
Elisa Ortega is a visual artist and social worker who incorporates art as a tool to empower the communities she has worked with for the last decade. She is currently pursuing a Master of Fine Arts at the University of California, Santa Barbara. Her practice uses wood sculpture, fiber, and found materials. She has participated in collective and individual exhibitions in Spain (Córdoba, Madrid, and Bilbao); Guatemala (Quetzaltenango); and the US (Santa Barbara, San Luis Obispo, and Los Angeles).
Location

Glassbox Gallery, UCSB