05sep(sep 5)1:00 pm25oct(oct 25)1:00 pmBrand 47(september 5) 1:00 pm - (october 25) 1:00 pm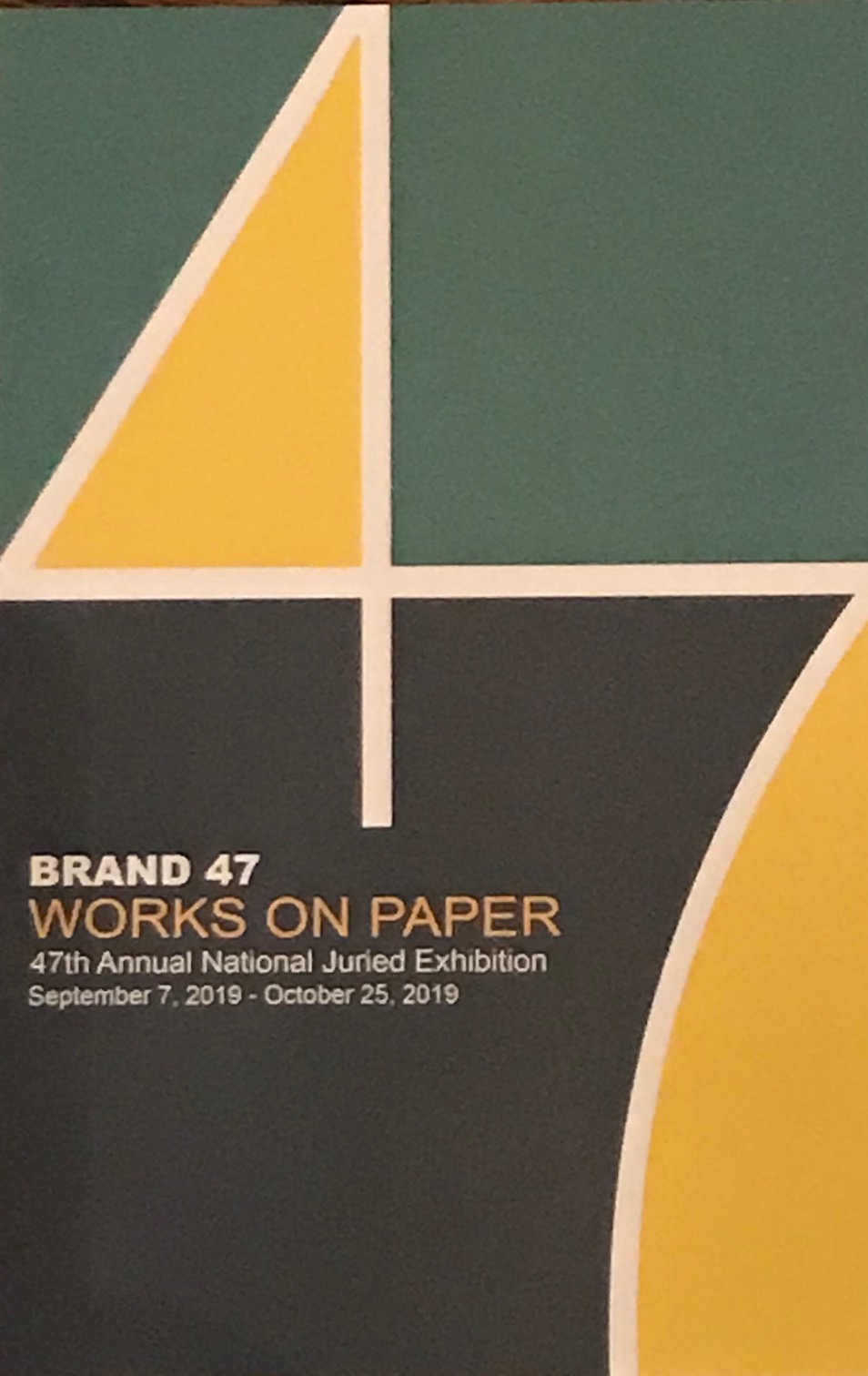 Event Details

Media Contact:
Arlene Vidor, President, Brand Associates
Phone: (818) 500-7675, Text: (818) 606-8359
arlenevidor@gmail.com

Annual National Juried Exhibition of Works on Paper "Brand 47" opens on September 7, 2019
Exhibition will be preceded by Paper preView Event, tickets now on sale

GLENDALE, CA. Brand Associates in partnership with Brand Library & Art Center, are pleased to announce the opening of the 47th Brand National Exhibition of Works on Paper, on view from September 7 through October 25, 2019. The exhibition includes 89 works of art selected by juror Alma Ruiz from over 1,000 submitted. Artwork is available for sale. Twenty-five percent of the proceeds from art sales benefit the Brand Associates in support of free cultural programming throughout the year.

OPENING RECEPTION. The exhibition, to which the public is invited free of charge, opens on September 7, 2019 from 7:00 pm to 9:00 pm. Many of the artists and the juror will be present. No RSVP is required. Parking is available in the lot adjacent to the library.

PAPER preVIEW Ticketed Reception. Immediately preceding the public opening there will be a private ticketed reception, Paper preView from 5:30 pm to 7:00 pm. This includes the artists awards ceremony, a champagne refreshment table, and an opportunity to get a first look at the artwork and purchase work. Tickets for Paper preView are $30 and are available at associatesofbrand.org.

ABOUT THIS EXHIBITION: The Annual National Juried Exhibition of Works on Paper has been organized and sponsored by the Brand Associates since 1971 in cooperation with the City of Glendale Library, Arts & Culture Department. It is one of the region's most prestigious juried shows, drawing entries from across the country. Over the years the exhibition has evolved to include an increasingly diverse array of three-dimensional artworks as well as an expanding range of approaches to the two-dimensional paper surface. Exhibition chairperson, Debra Thompson, is a Director of the Brand Associates and an adjunct Assistant Professor of Art History at Glendale Community College. This year's juror, Alma Ruiz joins a distinguished roster of jurors who have given their time, energy and expertise over the 47 years this exhibition has been mounted. Included among these artists, gallerists, curators, and educators are Edward Goldman (2018), Leslie Jones (2017), Jack Rutberg (2014), Peter Frank (2011), Lita Albuquerque (2007), Ruth Weisberg (1985) and Millard Sheets (1979) among many other prominent arts professionals.

ABOUT THE JUROR. Alma Ruiz is an independent curator and Senior Fellow at Sotheby's Institute of Art/Claremont Graduate University, and a member of the Advisory Committee for the Cisneros Fontanals Art Foundation in Miami. She is a former senior curator at The Museum of Contemporary Art, Los Angeles having curated exhibitions focusing on the postwar Italy and Latin America and emerging artists. She has guest curated the 20 Bienal de Arte Paiz in Guatemala City and the Fundación Jumex, Mexico City; the Fundación Telefónica, Buenos Aires; the Center for Contemporary Art, Tel Aviv; and in Los Angeles at both the Craft and Folk Art Museum (now the Craft Contemporary) and the Fowler Museum at UCLA. She has authored numerous essays and articles.

ABOUT THE BRAND LIBRARY & ART CENTER. The Brand has been a cornerstone for the arts in Southern California since 1956. This unique public library houses over 110,000 items on the visual arts and music, overseen by subject-specialist librarians. Free gallery exhibitions, concerts, lectures, dance performances, films, and hands-on craft programs are offered for children and adults. Always evolving, Brand Library utilizes new technologies and continues to develop innovative programs to serve an ever-widening public interested in the arts. Brand Library & Art Center is a branch of the City of Glendale Library, Arts & Culture Department. This year the Brand Associates, a non-profit organization whose mission is to support the many programs of Brand Library & Art Center, celebrates 50 years of working to ensure Brand continues as a significant cultural resource for the region.
ABOUT BRAND ASSOCIATES: Brand Associates, the sponsor of this exhibition has served as the non-profit support arm of the Brand Library & Art Center. The Brand Associates endeavors to make possible and support a rich array of cultural, arts, and educational programming at the iconic Brand Library & Art Center. In the organizaton's 50 years of existence the support of its membership has achieved a continuously expanding array of programs offered free to the public.

FACTS FOR EDITORS

Brand 47 Annual National Juried Exhibition of Works on Paper
Juror: Alma Ruiz, curator and educator
Sponsored by: The Brand Associates in cooperation with Glendale Library, Arts and Culture
Opening Public Reception: September 7, 2019, 7:00 pm to 9:30 pm

Paper preView, ticketed opening reception
September 7, 2019, 5:30 pm to 7:00 pm
Purchase tickets at XXXXXXX

Venue
Brand Library & Art Center
1601 W. Mountain St., Glendale, CA 91201.
Telephone: 818-548-2051
Email: info@brandlibrary.org
www.brandlibrary.org

Parking is free.
Public parking is in the lots available in Brand Park
Accessible parking is available on the east side of the building by the service road running around the back of the library.
Time

September 5 (Thursday) 1:00 pm - October 25 (Friday) 1:00 pm
Location

Brand Library & Art Center

1601 W. Mountain St.