The UCSB Department of Art and College of Creative Studies present Spring 2018 Visiting Artist Colloquium. The program offers a wide range of voices in dialogue, exploring the topics of contemporary art, theory, and cultural production by emerging and established visiting artists, as well as members of UCSB's faculty and graduate students.
Presentations will take place each Thursday, from April 5 through June 7, 2018.
All lectures are free and open to the public, held each Thursday from 5:00 to 6:50pm in UCSB's Embarcadero Hall in Isla Vista. For directions to location, please visit UCSB campus map
4.5.2018
Petra Cortright & Marc Horowitz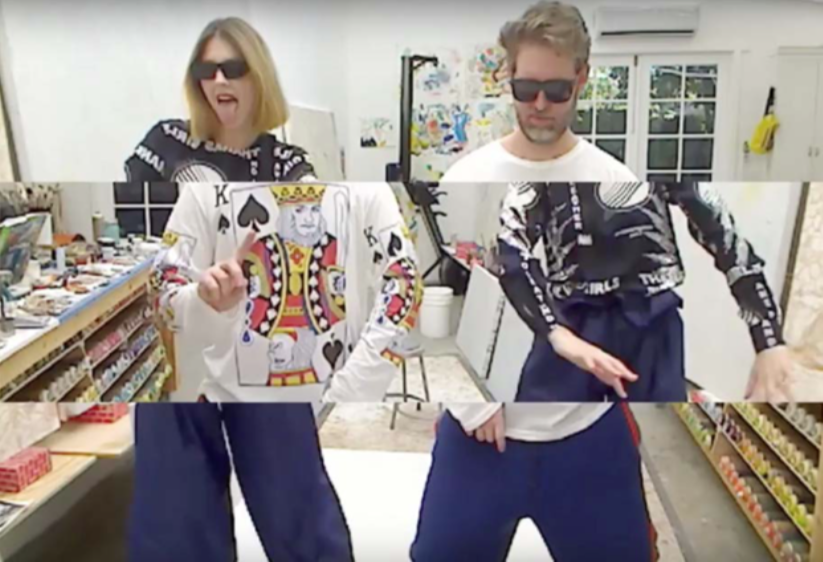 Petra Cortright and Marc Horowitz for Stella McCartney's Double Act
Petra Cortright (b. 1986, Santa Barbara, CA) lives and works in Los Angeles. Her core practice is the creation and distribution of digital files, whether they be videos, GIFs, or JPEGs, using consumer or corporate software and platforms. She has become renowned for making self-portrait videos that use her computer's webcam and default effects tools, which she then uploads to YouTube.
Petra Cortright's paintings on aluminum, linen, paper, or acrylic are created in Photoshop using painting software and appropriated images, icons, and marks. The digital files are endlessly modifiable, but at a "decisive moment" they are translated into two-dimensional objects. They become finite, yet their range of motifs and marks, and their disorienting perspectives and dimensions suggest dynamic change.
Cortright studied Fine Arts at Parsons School of Design, The New School, New York, NY (2008) and the California College of the Arts, San Francisco, CA (2004). Selected exhibitions include: "Electronic Superhighway," Whitechapel Gallery, London, UK (2016); The Metabolic Age, MALBA, Buenos Aires, Argentina; "On YouTube. Kunst und Playlists aus 10 Jahren," Kunsthaus Langenthal, Switzerland; "Im Inneren der Stadt," Künstlerhaus Bremen, Germany; Ural Industrial Biennial, Ekaterinberg, Russia (2017); 1301PE, Los Angeles; City Gallery, Wellington, New Zealand (both solo, 2017); Carl Kostyál, London, UK (solo, 2016); Ever Gold , San Francisco (solo, 2016); Depart Foundation, Los Angeles; Foxy Production, New York, NY (both solo, 2015); Société, Berlin, Germany (solo, 2014 and 2016); Frieze Film, Frieze London, UK; 12th Bienniale de Lyon, France (both 2013); Preteen Gallery, Mexico DF (solo, 2011); and the Venice Bienniale (2009). Cortright's work is in the collections of LACMA, Hammer Museum, Moderna Museet (Stockholm), MOTI (Breda) in collaboration with Stedelijk Museum (Amsterdam), MCA Chicago, Kadist, BAMPFA, and San Jose Museum of Art. A survey of the artist's webcam videos Webcam Video, Selected Works, 2007 – 2015, is currently on view at EverGold and Minnesota Street screening room.
Marc Horowitz, Installation view, 'You can't do that to them,' the wiser, older Architect said., Marc Horowitz at Ever Gold , San Francisco, 2017. Courtesy of the artist and Ever Gold
Marc Horowitz (b. 1976) is a Los Angeles-based artist working in painting, performance, video, photography, and social practice. In a practice that combines traditional drawing, commercial photography, and new media, Marc Horowitz turns American culture on its head to explore the idiosyncrasies of entertainment, class, commerce, failure, success, and personal meaning.
Using visual puns, large-scale participatory projects, and viral social pranks, Horowitz creates environments of high energy that lift the most mundane to the status of grand event in complex interplays between subject, viewer, and participant. Horowitz holds a master's degree in Art from the University of Southern California, and bachelor's degrees in both Art and Marketing from San Francisco Art Institute, and Indiana University Kelley School of Business respectively.
Marc Horowitz has had solo exhibitions at China Art Objects in Los Angeles, The Depart Foundation in Los Angeles, Johannes Vogt in New York, The Hayward Gallery in London, and at New Langton Arts in San Francisco. He received a project grant from Creative Time for their first online-based project. His work has been featured extensively on local and national television including ABC News, NPR Weekend Edition, CBS Inside Edition CBS, CNN American Morning, and on NBC's The Today Show. He has lectured at The Hammer Museum in Los Angeles, California Institute of the Arts, Stanford University, and Yale University. He has taught at the University of Southern California and developed a course in Post-Internet Art at Otis College with his partner, Petra Cortright.
Petra Cortright & Marc Horowitz 2018 Visiting Artists in Residence program has been generously supported by the Steven Cortright Fund, UCSB Department of Art.
4.12.18
Alexis Zoto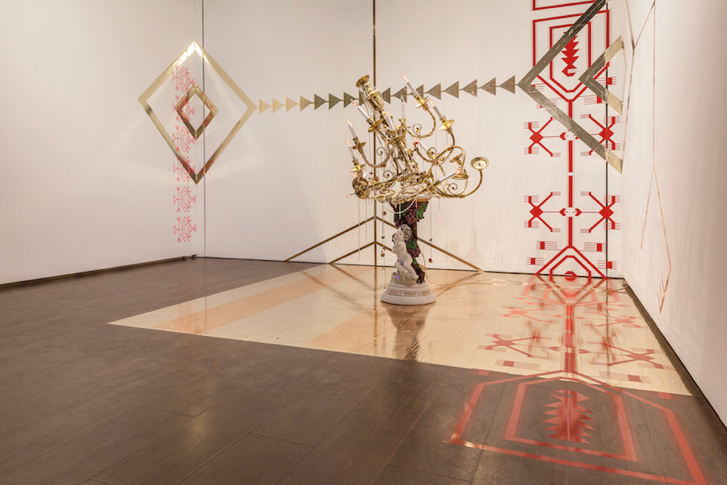 Alexis Zoto's work is inspired by her Albanian Orthodox heritage and her experiences as a woman, artist, educator, wife and mother living in Los Angeles. Her work deals with themes of acculturation and feminism. Often she pair stories from antiquity with family lore to create works that manifest themselves as contemporary baroque assemblages. She was born in Philadelphia, PA and lives and works in Los Angeles, CA. She is currently an assistant professor at the University of Southern California Gayle Garner Roski School of Art and Design.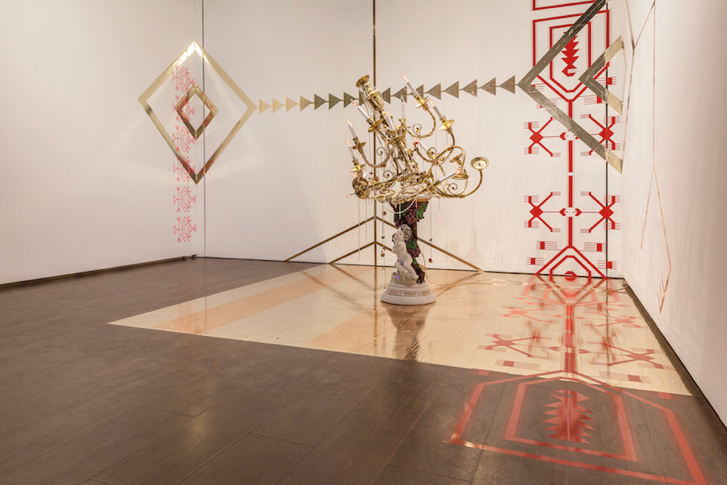 4.19.18
Jeffrey Alan Scudder + Julia Yerger
Radical Digital Painting
Jeffrey Alan Scudder lives and works in Berkeley, CA, where he spends his time programming and making pictures. He writes his own software for drawings, while exploring relationships between various mediums, including drawings, video games, paintings and code. Jeffrey has taught at UCLA and The New School / Parsons for Design and previously worked with the international design studio, Linked by Air. He received his MFA in Sculpture from Yale University School of Art in 2013. Since 2017 he has been touring and lecturing internationally on the idea of Radical Digital Painting with team member, Julia Yerger.
4.26.18
Umar Rashid (Frohawk Two Feathers)
in conversation with Marsea Goldberg

The death of Aurelio in the presence of the gods. Or, the new Pygmalion. My creator's death is giving me so much life. (El mundo es tuyo), 2017. Acrylic, ink, coffee, and tea on paper, 45.5 x 72 inches.
In his intricate paintings, Umar Rashid (Frohawk Two Feathers) re-imagines 18th century colonial history, conjuring a fictional cast of subjects within his own original on-going narrative that includes a rebel fighting force of freed slaves, militiamen, dikes, lords, and tribesmen. His paintings contain a mash-up of historical and cultural references, combining elements of 18th and 19th century colonial portraiture and folk art with visual signifiers of contemporary urban culture, including jewelry and body art associated with present-day gangsters and hipsters. Two Feathers wryly points to the instability of public histories and confronts issues of race, power, and greed. He was born in Chicago in 1976 and currently lives and works in Los Angeles and is one of the artists represented by New Image Art Gallery.
——–
Marsea Goldberg is a curator, gallery director and artist who has been shaping the contemporary art world for more than two decades. She founded Los Angeles' New Image Art Gallery in 1994, which began as an underground art experiment and has become a pivotal platform for young artists around the world, boasting a roster of international artists and a global cult following. Goldberg has mobilized the careers of artists such as Cleon Peterson, Date Farmers, Shepard Fairey, Retna, Ed Templeton, Chris Johanson, Neck Face, Tauba Auerbach, Swoon, Faile, Anthony Lister, Bäst, Cheryl Dunn, Clare Rojas, and Jo Jackson.oung. Goldberg began her career in painting and ceramics at UC Santa Barbara in 1977. She was introduced to the Los Angeles gallery scene through her solo show at the Ruth Schaffner Gallery in 1986. Her artwork has been exhibited and collected internationally, leading to her recent career as a textile designer, art directing and designing surf wear for recognized labels such as RVCA. She has been invited to lecture at Art Center College of Design, Santa Monica City College, LA MOCA and the Museum Het Domain in the Netherlands.

Marsea Goldbert, Textile, 2015
5.3.18
Rebecca Morris
Rebecca Morris is a painter fiercely committed to abstraction, her work pushing deeply into a constant interrogation of materials, forms, processes, and outcomes. A showcase for her extensive arsenal of techniques and ideas, her ambitious large-scale canvases create patchworks out of different manners of mark-making and toy inventively with questions of frame dynamics and figure/ground illusions, often within a remarkably shallow pictorial space.
Based in Los Angeles, Morris has been the subject of multiple exhibitions in recent years. Solo exhibitions include: Mary Boone Gallery, NYC (2017); 356 S. Mission Rd, Los Angeles (2015); The Bonnefantenmuseum, The Netherlands (2014); Kunsthalle Lingen, Germany (2013); Galerie Barbara Weiss, Berlin (2017, 2013, 2009, 2006); Corbett vs. Dempsey, Chicago (2016, 2013); Harris Lieberman, New York (2012, 2010); The Renaissance Society, Chicago (2005); and Santa Monica Museum of Art (2003).
Notable group exhibitions include: the 2016 "Made in LA: a, the, though, only" at the Hammer Museum, Los Angeles; the 2014 Whitney Biennial, NY; Kunstmuseum St. Gallen, Switzerland; The Museum of Contemporary Art Los Angeles; Victoria Miro Gallery, London; Sammlung Goetz, Munich; David Zwirner Gallery, NYC; Galerie nächst St. Stephan, Vienna; The Hessel Art Museum at Bard College, Annandale-on-Hudson, NY; Museum of Contemporary Art, Chicago; Gavin Brown's Enterprise, NYC; The Pit, Glendale, CA and upcoming at The Wexner Center for the Arts, Columbus.
Morris was the recipient of a Guggenheim Fellowship, as well as awards from Tiffany Foundation; The California Community Foundation; The City of Los Angeles Individual Artist Award; The Durfee Foundation; Art Matters; and the Illinois Arts Council. She is the author of Manifesto: For Abstractionists and Friends of the Non-Objective (2004) and teaches painting at Pasadena City College.
5.10.18
Art Department Graduates 2018 Panel
MFA ChessClub
Lucy Holtsnider combines monotype prints with found and hand-made materials such as paper and concrete to create collages addressing the impacts of climate change.
Daria Noor Izad is an Iranian-American artist and horsewoman. Her work consists of drawings on raw canvas, ceramic sculpture, assemblage and performance, referencing and mapping movement, the female body, ritual, labor and a sense of other worldliness where she shares a mutual non-verbal understanding with horses and other creatures.
Robert Huerta is a South LA artist working at the intersection of social practice and new-media. His research interests include storytelling across social networks, modifying the use of virtual and augmented reality to serve the needs of communities of color, and facilitating site-specific community organizing for those at the margins of dominant culture in the US.
https://www.hfa.ucsb.edu/news/2018/3/4/student-spotlight-robert-brian-huerta
Jennifer Lugris is interested in how reality is constructed in the mind. Her paintings describe everyday, even mundane, scenes that are deliberately truncated or hacked to provide a peripheral vision as though seen through a moving vehicle.
Jimmy Miracle explores the glory of the mundane through sensation based experiences and active listening to the commonplace, drawing and painting in his immediate surroundings through direct observation and contact with everyday people, places and events.
Carlos Ochoa makes spaces to immerse your vision and auditory senses and expand an understanding of the human condition. These spaces of rhythmic and ambient sounds, coincide with three-dimensional forms that are animated and abstract by nature.
Toni Scott's exhibitions and installations weave together artistically powerful stories presented through installations, multi-media, photography, painting, sculpture and digital ingenuity, often referencing fraught histories.
5.17.18
Amir Fallah
Amir H. Fallah creates paintings, sculptures, and installations that utilize personal history as an entry point to discuss race, representation, the body, and the memories of cultures and countries left behind. Through this process, the artist's works employ nuanced and emotive narratives that evoke an inquiry about identity, the immigrant experience, and the history of portraiture.
Fallah interrogates systems of representation embedded in the history of Western art. His ornate environments combine visual vocabularies of painting and collage with elements of installation to deconstruct material modes of identity formation. Portraits of veiled subjects capitalize on ambiguity to skillfully weave fact and fiction, while questioning how to create a portrait without representing the physicality of the sitter. While the stories that surround his subjects are deeply personal and are told through the intimate possessions they hold most dear, his work addresses generational immigrant experiences of movement, trauma, and celebration. Fallah wryly incorporates Western art historical references into paintings formally rooted in the pattern-based visual language of Islamic Art. In doing so, his paintings possess a hybridity that reflects his own background as an Iranian-American immigrant straddling cultures.
Amir H. Fallah was born in Tehran, Iran in 1979. He received his BFA from Maryland Institute College of Art in 2001 and his MFA from University of California Los Angeles in 2005. Amir has exhibited widely in solo shows across the United States and in the Middle East. These include Almost Home, The Third Line, Dubai, UAE (2017); Unknown Voyage, Schneider Museum of Art, Oregon, USA (2017); The Caretaker, Nerman Museum of Contemporary Art, Overland Park, KS, USA (2015); We Must Risk Delight-Twenty Artists from Los Angeles, 56th La Biennale di Venezia, Venice, Italy (2015); Theory Of Survival: Fabrications, Southern Exposure, San Francisco, CA, USA (2014); SUPERCALLAFRAGILEMYSTICEXTASY-DIOECIOUS, Lancaster Museum of Art and History, Lancaster, CA, USA (2013); Show Off, Salsali Private Museum, Dubai, UAE (2011); and Provisions for the Future, 9th Sharjah Biennial, Sharjah, UAE (2009).
Amir is a 2017 recipient of the California Community Foundation Fellowship for Visual Artists and a 2015 recipient of the Joan Mitchell Foundation Painters and Sculptors Grant. His works are part of several collections, including the Microsoft Art Collection, USA; the Nerman Museum of Contemporary Art, Overland Park, KS, USA; and the Salsali Private Museum, Dubai, UAE.
5.24.18 / Harry Reese
We invite you to attend this retrospective lecture by Professor Reese,
who will be retiring after a distinguished 40-year career here at UCSB.
Join us in honoring Professor Reese and his work as a creative scholar
and beloved teacher-mentor in print, papermaking, visual literacy and
media ecology in the Department of Art and the College of Creative Studies.
---

Funagainstawake that Granary Books, 1997
Harry Reese received a BA in Political Science in 1968, and an MA in Religious Studies in 1971, both from the University of California, Santa Barbara, and an MFA in Creative Writing from Brown University in 1975. He has taught print, papermaking, book art, visual literacy, and media ecology classes at the University of California, Santa Barbara since 1978. He served as Chair of the Department of Art for over five years, and as Associate Dean of the College of Creative Studies for seven years. He continues to co-direct the Book Arts Program (which he established in 1985) in the College of Creative Studies, one of the only programs in the country in which an undergraduate may receive a degree in Book Arts.
In partnership with Sandra Liddell, Harry Reese has published limited edition books and prints for their Turkey Press & Edition Reese imprints for over four decades from their home/studios in Isla Vista. Featuring their own handmade paper, typography and design, traditional and experimental prints and painting, innovative book structures, and collaborations with artists, poets, and writers, their publications can be found in major libraries, museums, and private collections. They have received significant grants, awards, and recognition from a number of organizations and institutions, most notably the National Endowment for the Arts, California Arts Council, Nevada Arts Council, Rhode Island State Council on the Arts, the American Institute of Graphic Arts, Los Angeles Public Library, College Book Art Association, Book Club of California, Getty Research Institute, Stanford University, and the Public Art & Design Program of Broward County (Florida).
5.31.18
Naida Osline + Tyler Stallings

Installation view from the exhibition, Mundos Alternos: Art and Science Fiction in the Americas, initiated and co-curated by Tyler Stallings. Artwork by Rigo 23, Autonomous InterGalactic Space Program, 2009-present.
Tyler Stallings
Tyler Stallings' curatorial work focuses on political, social, and popular culture themes through the arts. Currently, he is director of Orange Coast College's Frank M. Doyle Arts Pavilion. Most recently, he was at University of California, Riverside. During his eleven-year tenure at UCR ARTSblock, since 2006, he served as Director of the Sweeney Art Gallery, Artistic Director of the Culver Arts Center andInterim Executive Director of ARTSblock. He was chief curator at Laguna Art Museum from 1999 to 2006. For UCR ARTSblock, he curated or co-curated: Absurd Recreation: Contemporary Art from China(2008), Truthiness: Photography as Sculpture (2008), Mapping the Desert/Deserting the Map: AnInterdisciplinary Response (2009), Intelligent Design: Interspecies Art (2009), Your Donations Do OurWork: Andrea Bowers and Suzanne Lacy (2009), The Great Picture: The World's Largest Photograph &the Legacy Project (2011), Margarita Cabrera: Puslo y Martillo (Pulse and Hammer) (2011), Mexico atthe Hour of Combat: Sabino Osuna's Photographs of the Mexican Revolution (2012), Lewis deSoto &Erin Neff: Tahquitz (2012), Free Enterprise: The Art of Citizen Space Exploration (2013), and MundosAlternos: Art and Science Fiction in the Americas (2017), to name a few. Mundos Alternos received two major grants from The Getty Foundation as part of its Pacific Standard Time: LA/LA initiative. Other notable exhibitions at other venues include CLASS: C presents Ruben Ochoa and Marco Rios: Rigor Motors (2004), Whiteness, A Wayward Construction (2003), Surf Culture: The Art History of Surfing (2002), Desmothernismo: Ruben Ortiz Torres (1998), and Kara Walker: African't (1997). Many of theseexhibitions have been accompanied by books. Upcoming ARTSblock exhibitions in 2018 that he willcontinue to curate include Yunhee Min & Peter Tolkin: Red Carpet in C and Painting Architecture. Upcoming Doyle Arts Pavilion exhibitions include Amy Elkins: Photographs of Contemporary Masculinity and Stargazers: Intersections of Contemporary Art and Astronomy. He is also the co-editor of the anthology, Uncontrollable Bodies: Testimonies of Identity and Culture (Seattle: Bay Press, 1994), and is a columnist for KCET-TV's Artbound program. His most recent book of essays is Aridtopia: Essays on Art & Culture from Deserts in the Southwest United States (Blue West Books, 2014).
About Mundos Alternos: Art and Science Fiction in the Americas
Mundos Alternos: Art and Science Fiction in the Americas is wide-ranging survey exhibition that brings together contemporary artists from across the Americas who have tapped into science fiction's capacity to imagine new realities, both utopian and dystopian. Science fiction offers a unique artistic landscape in which to explore the colonial enterprise that shaped the Americas and to present alternative perspectives speculating on the past and the future. In the works featured in the exhibition, most created in the last two decades, artists employ the imagery of science fiction to suggest diverse modes of existence and represent "alienating" ways of being in the world.
About Amy Elkins: Photographs of Contemporary Masculinity
Amy Elkins' first survey of photographs and first solo exhibition in the Western States, approaches various subjects such as male athleticism, whether as dancers or rugby players, as well as men serving life and death row sentences, as a way of exploring the many facets of male identity, masculinity, and vulnerability.
For more information:
https://www.kcet.org/arts/artbound/columnists/tyler-stallings-1/
Naida Osline

Naida Osline, Tattooed Tobacco No.5, 2010, inkjet print, 42 x 30 inches
Naida Osline is a Southern California-based artist who combines and manipulates images sourced from both analog and digital processes, in which she blends conceptual and documentary photographic practices with an abiding interest in the transformative, mythical, and ethereal nature of existence. Osline works primarily in the Americas, delving into a number of themes that explore economic and cultural structures, identity, gender, aging, along with the mystical and the natural world in tension with the human-built environment. Osline has had numerous solo exhibitions and has been included in many group shows throughout Southern California, as well as internationally. Her work has been reviewed in the Los Angeles Times, Artillery Magazine, Huffington Post, the Orange County Register, Artweek and Artscene.
Recent bodies of work include: VISIONARY PLANTS: This ongoing series pays homage to important psychoactive plants that have contributed to global economies, challenged beliefs, caused violence, fueled addiction, promoted spirituality, raised consciousness, inspired art and generated legislation. Osline's artistic practice involves growing or locating the plants, photographing them at various stages and finally recombining them into fantastical compositions that suggest their psychoactive nature. The scale the plants is much larger than life-size enhancing their mythological status. Related to this work, Osline is currently working on a series of portraits that traces people vaping.
TATTOOED TOBACCO (PART OF VISIONARY PLANTS PROJECT): These photographs use tobacco leaves as a surface for imagery to suggest that the plant, which has a complex relationship with humans, has inherited its own history, which has grown out on its leaves. The images were applied directly to the leaves using a temporary tattoo process. They reference tobacco's history in the Americas and its subsequent use in Europe, after colonization, alongside images that point to its use in addictive, spiritual and medical practices. The scale suggests manuscripts, maps, stained glass, skin and lungs.
GRINGOTOPIA: Hundreds of thousands of citizens have left the U.S. for Mexico in search of a better quality of life. GRINGOTOPIA, a series of twelve, 10-minute chapters, gives voice to this phenomenon through interwoven interviews, paced like a social conversation, with a diverse group of 25 people. Living south of Guadalajara, in the Lake Chapala area, a magnet for U.S. and Canada expatriates, they tell insightful, intimate, and humorous stories about life-changing moves across more than just a geographic border. In English with Spanish subtitles. https://vimeo.com/gringotopia.
Artist website: https://naidaosline.com
6.7.18
Ceci Moss
Ceci Moss is a curator, writer and educator. She is the founder of Gas, a mobile, autonomous, experimental and networked platform for contemporary art located in a truck gallery parked around Los Angeles and online. She has a MA and PhD in Comparative Literature from New York University, and a BA in History and Sociology from U.C. Berkeley. Her academic research addresses contemporary internet-based art practice and network culture. For the past twelve years, Moss worked in non-profit arts organizations in various curatorial, editorial and fundraising capacities. Previously, she was Assistant Curator of Visual Arts at Yerba Buena Center for the Arts, the Senior Editor of the art and technology non-profit arts organization Rhizome, and Special Projects Coordinator at the New Museum of Contemporary Art. Her curatorial projects have received critical praise from The New York Times, Artforum, The Huffington Post, LA Weekly, Flash Art, Fast Company, The Wire, and Creator's Project.
---
Thanks to our team of UCSB organizers + sponsors :
John Majewski, Dean, Humanities and Fine Arts
Dick Hebdige, Chair, Department of Art
Kathy Foltz, Interim Chair, College of Creative Studies
Richard Ross, Faculty, Department of Art
Kim Yasuda, Faculty, Department of Art
Rose Bricetti, Postgraduate Teaching Fellow, Department of Art
Kayla Mattes, MFA graduate 2019, Department of Art
In Memory of Art Department faculty
Steven Cortright