[av_textblock ]
Sept 27, 5pm at Broida Hall – Bruce W. Ferguson
Bruce W. Ferguson has been a curator and critic for more than thirty years. Bruce previously served as the Dean, School of Arts at Columbia University; President and Executive Director of the New York Academy of Art, and is the founding Director and first bienial curator of SITE Santa Fe, in Santa Fe, New Mexico.
Bruce has curated more than 35 exhibitions for institutions such as the Louisiana Museum in Copenhagen, the Barbican Art Gallery in London, the Winnipeg and Vancouver Art Galleries in Canada and the Institute of Contemporary Art in Boston. He also organized exhibitions in the international biennales of Sao Paulo, Sydney, Venice and Istanbul.
A prolific writer, Bruce has written for art publications like Canadian Art, Art Forum, Art in America, Art + Text, Flash Art, Bomb Magazine, Art Press, Borders Crossing and Parachute. Along with Reesa Greenberg and Sandy Nairne, he received a Getty Senior Research Fellowship grant, which resulted in the publication of a seminal anthology of essays on the theories of exhibitions titled, Thinking About Exhibitions (Routledge: 1996).
Bruce received his B.A. in Art History from the University of Saskatchewan and his M.A. in Communication from McGill University in Montreal.
Oct 4, 5pm at Broida Hall – Martin Kersels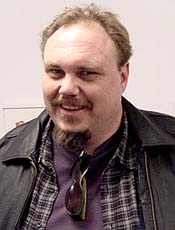 Martin Kersels is a Los Angeles-based artist working in the areas of sculpture and performance. Born in 1960 at St. Vincent's Hospital near downtown Los Angeles, Kersels has moved only 5 times in his life. He attended UCLA for both his graduate and undergraduate education, though there was an 8-year span of time between his two enrollments. He has held a variety of jobs since the age of 15 including plastic box stamper, copy machine jockey, cappuccino maker, print reviewer, lab assistant, and court reporter.
His work runs the gamut from the collaborative performances of the group SHRIMPS to large-scale sculptures such as Tumble Room to intimate sculpture instruments for his "Orchestra for Idiots." Kersels has exhibited extensively at venues such as the Pompidou Center, MOCA Los Angeles, Kunsthalle Bern, the Tinguely Museum, and the Getty (the Getty even owns his work, though they will never, ever exhibit it). His sculpture, 5 Songs, and an accompanying performance series, Live on 5 Songs, was part of the recent Whitney Biennial of American Art. He is represented by Mitchell-Innes & Nash in New York and by Galerie Georges-Philippe and Nathalie Vallois in Paris.
Oct 11, 5pm at Broida Hall – Ruchama Noorda (Civic Virtue)
Ruchama Noorda works across a range of media-video,  installation and performance. She is a member of the Amsterdam-based Civic Virtue collective, a group dedicated to 'reforming' the future through the  excavation of forgotten or neglected histories.  CIVIC VIRTUE 11 the group's  latest project consisted of a series of exhibits and interventions mounted over the summer at  the Historical Museum in Bamberg, Germany . Noorda's current research traces the passage across the Atlantic of  'Nature-based' utopian communal ideals and practices from northern Europe to the West Coast of the U.S  in the early to mid 20th century.
Oct 18, 5pm at Pollock Theatre – James Benning
James Benning (born 1942 in Milwaukee, Wisconsin) is an American filmmaker. He is the son of German immigrants and studied film at the University of Wisconsin–Madison (1975) under the tutelage of David Bordwell. Working as an independent filmmaker, Benning's films focus on a sense of place, and are often built from long, unedited takes. He used to work in Chicago but in recent years has been based on the West Coast. In 2003, Reinhard Wulf made a 90 minute documentary about Benning and his films called James Benning: Circling the Image. In 2007, the Austrian Film Museum published a book of texts on his work.
In addition to his film work, Benning has held professorships at Bard College and Northwestern University, and since 1987, he has taught film-making and experimental sound at the California Institute of the Arts.
Oct 25, 5pm at Broida Hall – Ken Ehrlich
Ken Ehrlich is an artist and writer based in Los Angeles. He has exhibited internationally in a variety of media, including video, sculpture and photography. His project based practice interweaves architectural, technological and social themes and he frequently collaborates with architects and other artists on site-specific and community-based projects in public spaces. He is the editor of Art, Architecture, Pedagogy: Experiments in Learning (2010) published by viralnet.net and co-editor of Surface Tension: Problematics of Site (2003), Surface Tension Supplement No. 1 (2006) and What Remains Of A Building Divided Into Equal Parts And Distributed for Reconfiguration: Surface Tension No. 2 (2009) published by Errant Bodies Press. He currently teaches at The California Institute of the Arts (CalArts) and in the Department of Art at U.C. Riverside.
Nov 1, 5pm at Broida Hall – Otolith Group
The Otolith Group is an award winning artist led collective and organisation founded by Anjalika Sagar and Kodwo Eshun in 2002 that integrates film and video making, artists writing, workshops, exhibition curation, publication and developing public platforms for the close readings of the image in contemporary society. The Group's work is formally engaged with research led projects exploring the legacies and potentialities of artists led proposals around the document and the essay film, the archive, the sonic, speculative futures and science-fictions.
Nationally and internationally, the Group have produced work that acts as a platform to develop wider relations to the production of the experimental in moving image practice. They have organized workshops, discussions and curated and co-curated work at film festivals, programmes and exhibitions including the touring exhibition The Ghosts of Songs: A Retrospective of The Black Audio Film Collective 1982-1998, Harun Farocki. 22 Films: 1968-2009 at Tate Modern and the touring programme Protest conceived as part of the Essentials: The Secret Masterpieces of Cinema commissioned by the Independent Cinema Office.
In 2010 The Otolith Group were nominated for the Turner Prize.
In 2011 The Otolith Group will be presenting their work on several platforms internationally and in the UK will launch a new project in development with the theorist and blogger Mark Fisher and will co-curate a major conference on the militant image at The Institute of Visual Arts in London and on Jean Genet at The Nottingham Contemporary.
Nov 8, 5pm at Broida Hall – Jay Lizo and the Grad Art Showcase
Jay Lizo graduated from the MFA program at UCSB in 2005, is a member of the Monte Vista Art collective and has exhibited widely in LA. The following grad students will present their work in the Grad Art Showcase :
Alex Bogdanov
Sterling Crispin
Alison Ho
Jae Hee Lee
Nick Loewen
Tristan Newcomb
Chris Silva
Erik Sultzer
Van Tran

Nov 15, 5pm at   Pollock Theatre – Sharon Lockhart
Sharon Lockhart is well known for her formally strict and conceptually precise films and photographs that often explore social subject matter. As much as her photographs reveal cinematic qualities of staging and casting, so too do her films frequently engage a static camera and angles that recall photographic practices. To create the works in Lunch Break, Lockhart spent one year in Bath, Maine, at the Bath Iron Works shipyard—a private sector US naval shipbuilding company—observing and engaging with workers during their daily routines. The resultant film installations and series of photographs focus on the activities of these workers during their time off from production.
Lockhart's work in this exhibition crosses boundaries and complicates distinctions between film, photography, and documentation in provocative ways. Her visual representations are devoid of sentiment and yet deeply humane, intimate in their focus on everyday situations while reflecting broader global conditions through their historically grounded approach.
Nov 22, 5pm at Broida Hall – Sierra Brown
Based in San Pedro, CA, Sierra Brown is renowned for her previous ocean-based endurance works. Brown has performed works like 2007's Supercommute, which included a 12-mile swim across four shipping lanes in the Port of Los Angeles, the western hemisphere's busiest port. She considers her performance art works as part of her commitment to thinking through the linked issues of sustainability, consumption and waste management. The San Pedro-based artist is also a seasonal wild land fire fighter and dive boat captain.
Nov 29, 5pm at Broida Hall – Raitis Smits
RAITIS SMITS (LV, b. 1966) is a media artist, organiser and net activist, based in Riga, Latvia. He is co-founder of the Electronic arts and media centre E-LAB (1996) and The Center for New Media Culture RIXC (2000) in Riga, and co-organiser of the annual International new media culture festivals "Art+Communication" in Riga (since 1996).
Since 1997 his activities are mainly devoted to 'acoustic explorations':
development of riga net radio OZONE and global net.radio network and mailinglist
Xchange (since 1997). The most recent project initiated by Rasa Smite and Raitis Smits, together with Derek Holzer (Amsterdam), is Acoustic Space Research Lab – an ongoing collaboration between RIXC, Projekt ATOL (Ljubljana), L'Audible (Sydney) and Radioqualia (Amsterdam-London-Adelaide). As the pilot event of this project, in summer 2001 they organised International symposium on sound art, radio and satellite technologies, which took place in Irbene Radiotelescope in Latvia.
[/av_textblock]