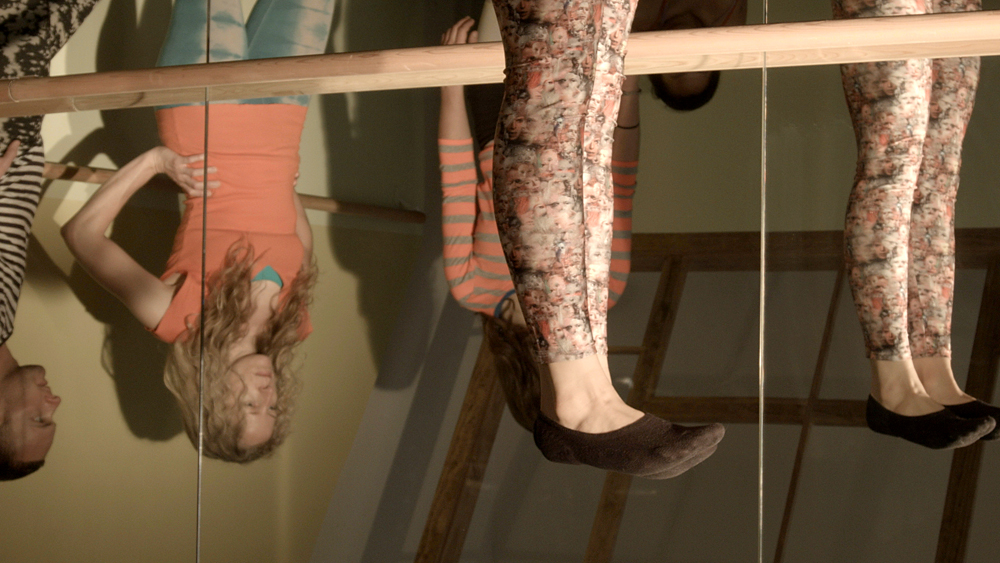 18th Street Arts Center presents Conversation between Alice Wang & Michael Ned Holte
Posted on
January 9, 2015


Alice Wang, untitled, 2014, video still
Alice Wang
Atrium Gallery
18th Street Arts Center
January 12 – February 27, 2015
​Conversation​ ​between the artist and Michael Ned Holte​,​​ with ​opening reception ​to follow: ​Friday, January 23, 6-8pm
kinetic forms. memory is a physical sensation imprinted on the mind mass of flesh. mosquito-like imperceptible motion. the kind which can only be felt in the peripheral. eyes stroke their contours with the attentive gaze. mind-unleashed trigger. expand into the sculptural dimension. presence and projection at once. premonitory sense is required to chart the course of its wavering path. its flickering attitude frustrates while captivates consciousness which trails off only to be gripped again with its slightest movement. its unpredictable velocity makes tracking impressions difficult but not impossible.
Alice Wang was born in the ancient city of Xi'an and lives and works between Los Angeles and Toronto. She received her BS in Computer Science and International Relations from the University of Toronto, BFA from the California Institute of the Arts, and MFA from New York University (2012). Between 2012-13, Wang was living and working in Paris as a fellow of the Carla Bruni-Sarkozy Foundation; in 2013, she was a Villa Aurora fellow in Berlin. Wang has exhibited at Immanence (Paris), Armory Center for the Arts (Pasadena), Cutlog Art Fair (New York), and the Moscow Museum of Modern Art, among others; her solo exhibitions include Slippery Contours at Galleri Detroit in Stockholm, Sweden, the Art Gallery of Mississauga in Canada where her video essay The fallacy of misplaced concreteness was featured in the museum's project space XIT-RM. Wang teaches Photography and Critical Theory at the University of California in Santa Barbara and makes still & moving images, drawings, sculptures, websites, and sometimes she writes.
Michael Ned Holte is a writer, independent curator, and Co-Director of the Art Program at the California Institute of the Arts. Holte has organized numerous exhibitions including "TL;DR" (2014) at Artspace, Auckland, New Zealand; "Support Group" at Thomas Solomon at Cottage Home, Los Angeles (2010); and "Celine and Julie Go Boating" at Anna Helwing Gallery, Los Angeles (2005). Along with Connie Butler, he was co-curator of the 2014 edition of "Made in L.A." at the Hammer Museum, Los Angeles. He has contributed to print and online periodicals such as Afterall, Artforum International, Art Journal, East of Borneo, and Pin-Up, and his texts have appeared in monographic publications including Seven Films by Paul Sietsema (Mousse/MCA Denver); Kathryn Andrews: Special Meat Occasional Drink (Museum Ludwig); In the Shadow of Numbers: Charles Gaines Selected Works from 1975-2012 (Pomona College Museum of Art/Pitzer Art Galleries); Richard Hawkins—Third Mind (Art Institute of Chicago/Yale); and Roy McMakin: When is a Chair Not a Chair (Skira/Rizzoli).
​​
Exhibition:​ https://18thstreet.org/events/alice-wang-exhibition
​Opening: ​https://www.facebook.com/events/1541505492787831
18th Street Arts Center
1639 18th Street
Santa Monica, CA 90404
Phone: 310.453.3711
Hours: 11am-5:30pm, M-F