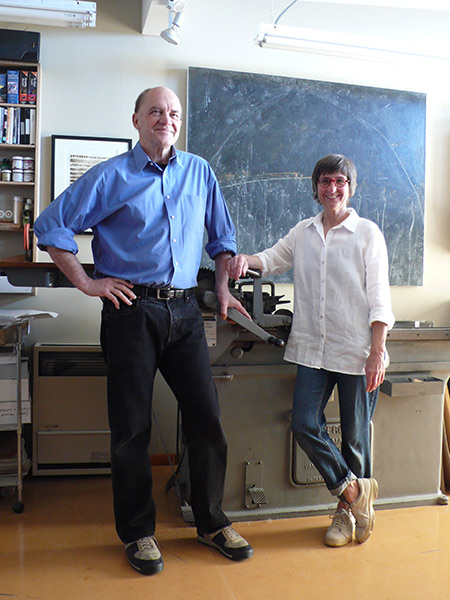 Harry and Sandra Reese co-recipients of the 2015 Oscar Lewis Award in Book Arts
Posted on
February 24, 2015
Article from the UCSB Current can be read here
DR. GRAY BRECHIN AND SANDRA & HARRY REESE TO RECEIVE 2015 OSCAR LEWIS AWARDS FROM THE BOOK CLUB OF CALIFORNIA ON MONDAY, MARCH 30, 2015, 5-7 p.m.
The Book Club of California congratulates the recipients of the 2015 Oscar Lewis Awards: Dr. Gray Brechin for his contributions to Western History, and Sandra and Harry Reese for their contributions to the Book Arts.
Dr. Gray Brechin is an historical geographer and author whose chief interests are the state of California, the environmental impact of cities upon their hinterlands, and the invisible landscape of New Deal public works. He is perhaps best known for his book Imperial San Francisco: Urban Power, Earthly Ruin (UC Press, 1999), a case study of how all great cities operate at the expense of their environs for the benefit of dynastic elites. Dr. Brechin is currently a visiting scholar in the UC Berkeley Department of Geography and founder and project scholar of the Living New Deal Project. In the words of his nominator, "Dr. Brechin strains what is obviously a wild and crazy love for our state (and the state it is in) through his own particular filters of urban studies, geography, history, and critical theory. . . . He is an advocate of the preservation of all things that make our state California."
Harry and Sandra Reese are a printer and book artist team based in Isla Vista, California. Their Turkey Press, founded in 1974, features exquisite books of primarily contemporary poetry printed using both traditional letterpress as well as digital imaging techniques. In 1990, they founded Edition Reese, to publish collaborations with other
The Book Club of California established the Oscar Lewis Awards in 1994 to honor the prolific and popular San Francisco writer-historian who served as Book Club secretary from 1921 to 1946. The list of this year's nominees was impressive—all were highly accomplished and deserving of the award—but in the end the awards committee felt the contributions of Dr. Gray Brechin and Harry and Sandra Reese best represented the tenets of the award and the mission of the Book Club of California to support literature, scholarship, and the art of the book related to the history and literature of California and the West.
ESSENTIAL INFORMATION:
The 2015 Oscar Lewis Awards Ceremony will be held at the Book Club of California, 312 Sutter Street, Suite 500,
San Francisco, CA from 5-7 p.m. on Monday, March 30.
Admission is free and open to the public. Reservations are required. RSVP to Georgie@bccbooks.org.
For more information about the Book Club of California, please visit our website at www.bccbooks.org or to learn about past Oscar Lewis Award winners, visit https://www.bccbooks.org/programs/awards/. You may also contact Georgie Devereux at (415) 781-7532 or georgie@bccbooks.org.