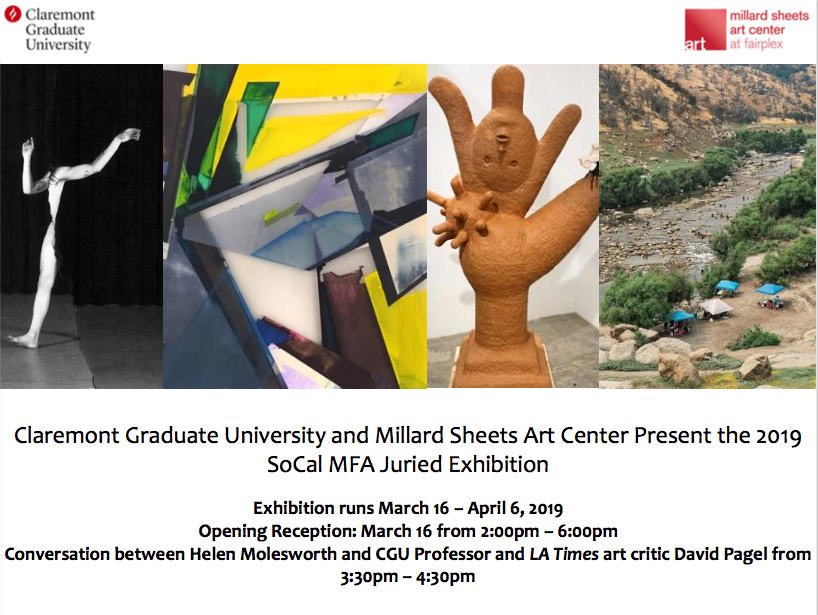 Helen Molesworth Juries 2019 SoCal MFA Exhibition at Millard Sheets Art Center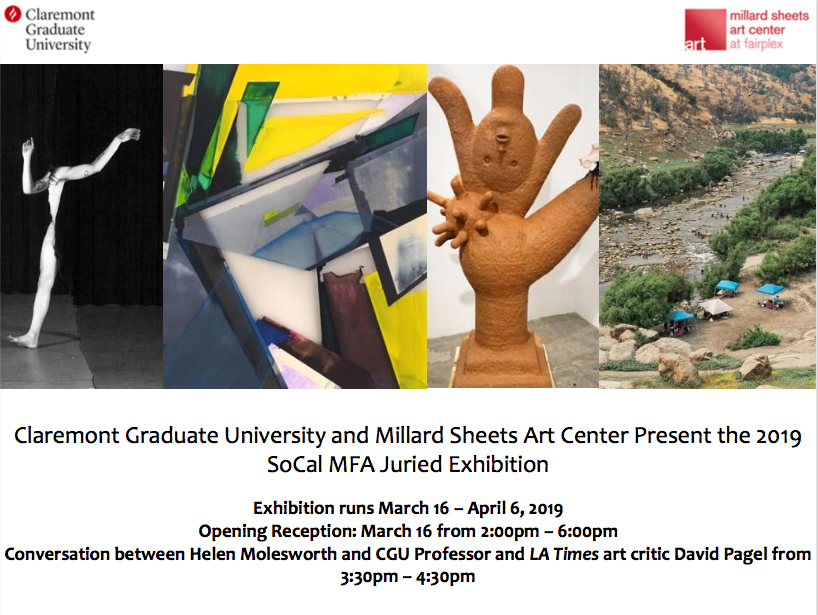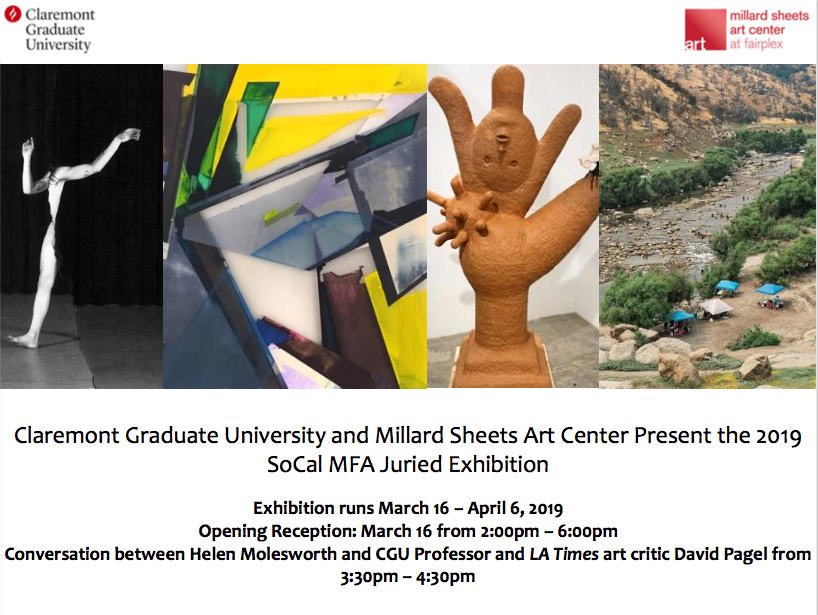 Pomona, CA (February 25, 2019) — SoCal MFA Juried Exhibition is launching its fourth installment at the Millard Sheets Art Center. The exhibition, organized by MFA students from Claremont Graduate University (CGU) in conjunction with Fairplex and the Art Center, provides both a platform for Southern California's emerging artists to exhibit new directions in art and a learning experience for CGU students to work with the Art Center on creating a large-scale juried exhibition.
This year's SoCal MFA team launching the exhibition is Madeline Arnault, Ashley Lothyan, and Jill Steggall. The 2019 exhibition includes 15 eligible MFA programs throughout Southern California. Selected students study in Southern California. Accepted students come from ArtCenter College of Design, Azusa Pacific University, Cal Arts, CSU Fullerton, CSU Northridge, Claremont Graduate University, CSU Long Beach, CSU San Bernardino, Laguna College of Art and Design, Otis College of Art and Design, UC Irvine, UC Riverside, UC Santa Barbara, UC Los Angeles, and UC San Diego.
Each year a guest juror is tapped to select artwork included in the exhibition. This year's juror is curator Helen Molesworth. From 2014-2018 Molesworth was the Chief Curator at The Museum of Contemporary Art (MOCA), Los Angeles, where she co-organized the first US retrospective of the Brazilian artist Anna Maria Maiolino and the monographic survey Kerry James Marshall: Mastry. She is the author of numerous catalogue essays and her writing has appeared in publications such as Artforum, Art Journal, Documents, and October. The recipient of the 2011 Bard Center for Curatorial Studies Award for Curatorial Excellence, she is currently at work on a book of essays about what art does.
"Serving as a juror for a student exhibition is always very humbling. You see a wide variety of
work, all of it earnest and all of it representing the bravery of people who are willing to put
themselves out there, willing to be judged by another person. There are very few people as
courageous as artists," states Molesworth. She continues, "I always feel really great about the
works I choose and I always feel terrible for the ones I don't. In the end, my choices are as
arbitrary as anyone else's. On any given day two jurors could come up with entirely different
lists. As the saying goes: that's what makes horse races."
As guest juror, Molesworth selected more than 50 works ranging from painting, fabric art, sculpture, photography and multimedia by Stacey Alexander, Emilie Carroll, Matthew Chan, Max Cleary, Dianne Dillingham, Philipp Farra, Grace Grothaus, Olivia Hill, Stephanie Huang, Madeleine Ignon, Adam Jahnke, Natalie Jenkins, Matt Key, Jeongmyo Kim, Kate Landry, Carson Lynn, Megan Macuen, Sherry Mahboubian, Lucy Manalo, Patricia Miller, Lauren Moradi, Silvi Naçi, Elise Ortega Montilla, Ari Salka, Christine Smith, Charles Snowden, Briana Stanley, Jillian Thompson, Michael Thurin, Sydney Walters, and Xiangwen Wu.
Accompanying the exhibition will be a conversation between Molesworth and CGU Art Professor David Pagel on the day of the exhibition opening. In addition to his position at CGU, Pagel is an adjunct curator at the Parrish Art Museum in Water Mill, New York. He also writes regularly for the Los Angeles Times. Since 1988, he has published reviews, features, and essays in Artforum, Art in America, Flash Art, frieze, and Art Issues, where he was reviews editor from 1998 to 2001. The conversation will be free and open to the public and will discuss the approach of curating group exhibitions, the decisions involved in curating and jurying, and what goes into the role as a whole.
About Fairplex and the Millard Sheets Art Center
About CGU Art and the School of Arts and Humanities
The School of Arts & Humanities is home to a unique approach to graduate education, offering students the opportunity to study in and across disciplines as they "follow the problem." Our research and teaching transcend academic boundaries and disregard the artificial divides between theory and application. Intimate seminar-style classes mean you'll build close working relationships with faculty-mentors, who in turn will help you thrive academically and launch meaningful careers.
Gallery Hours:
March 16 – April 6, 2019
Opening Reception: March 16, 2:00pm – 6:00pm, Conversation from 3:30pm-4:30pm
The gallery is free and open to the public every
and The Millard Sheets Art Center is accessible through the Gate 1 entrance to the Fairplex. Parking is free.
Through exhibitions, educational programs, events and workshops, the Millard Sheets Art Center
provides the community with meaningful experiences within the world of visual arts. As part of
The Learning Centers at Fairplex, we engage the community at multiple levels of education and
our exhibitions promote the rich and diverse cultures that lie within LA County and Southern
California. Fairplex is an educational and entertainment complex that is home to the LA County
Fair and 500 year-round events.
Tuesday through Friday from 11:00am – 3:00pm
Saturday and Sunday from 12:00pm – 3:00pm.
Exhibition contact:
Dee Campos dcampos@fairplex.com (909) 865-4640