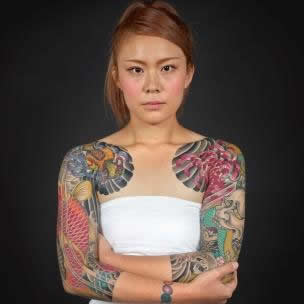 Kip Fulbeck's PERSEVERANCE: Japanese Tattoo Tradition in a Modern World
Posted on
February 11, 2015
February 5 – May 2
Opening Reception: Thursday, February 12, 7:30 – 9 p.m.
Center for the Arts Asian Arts Gallery
This exhibition of photographs by Kip Fulbeck explores the master craftsmanship and ongoing influence of traditional Japanese tattooing. With a unique display designed by Fulbeck to reference the craft's roots in ukiyo-e and other Japanese art forms, the exhibition showcases both the splendor and the intricacy of modern
tattooing. Curated by master tattoo artist and author Takahiro Kitamura, the
exhibition presents the work of seven internationally-acclaimed Japanese-style
tattoo artists: Horishiki (Chris Brand), Horitaka, Horitomo, Junii, Miyazo, Shige,
and Yokohama Horiken.
Admission is FREE.
Gallery Hours: Monday – Friday, 11 a.m. – 4 p.m.; Saturday, 1 – 4 p.m.
Closed for Spring Break – March 15 – 22
SAVE THE DATE:
Tattoo Fest, Wednesday, April 15, 5 – 9 p.m., West Village Ballroom
Local tattoo artists and vendors, presentations, henna workshops, calligraphy demonstrations, and more! Co-presented with TU Center for Student Diversity and TU Student Government Association.