Visiting Speakers Calendar – Fall/Spring 2020-21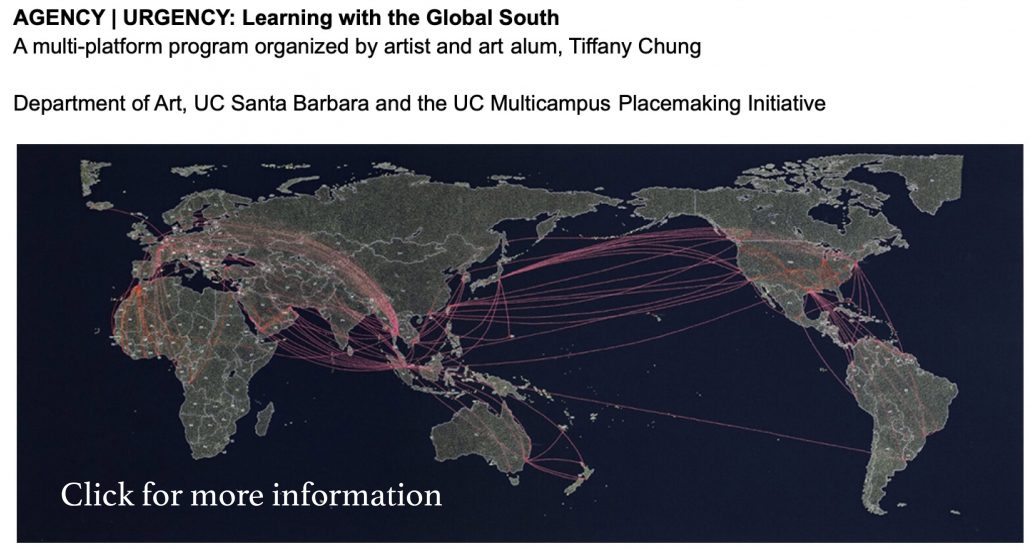 ---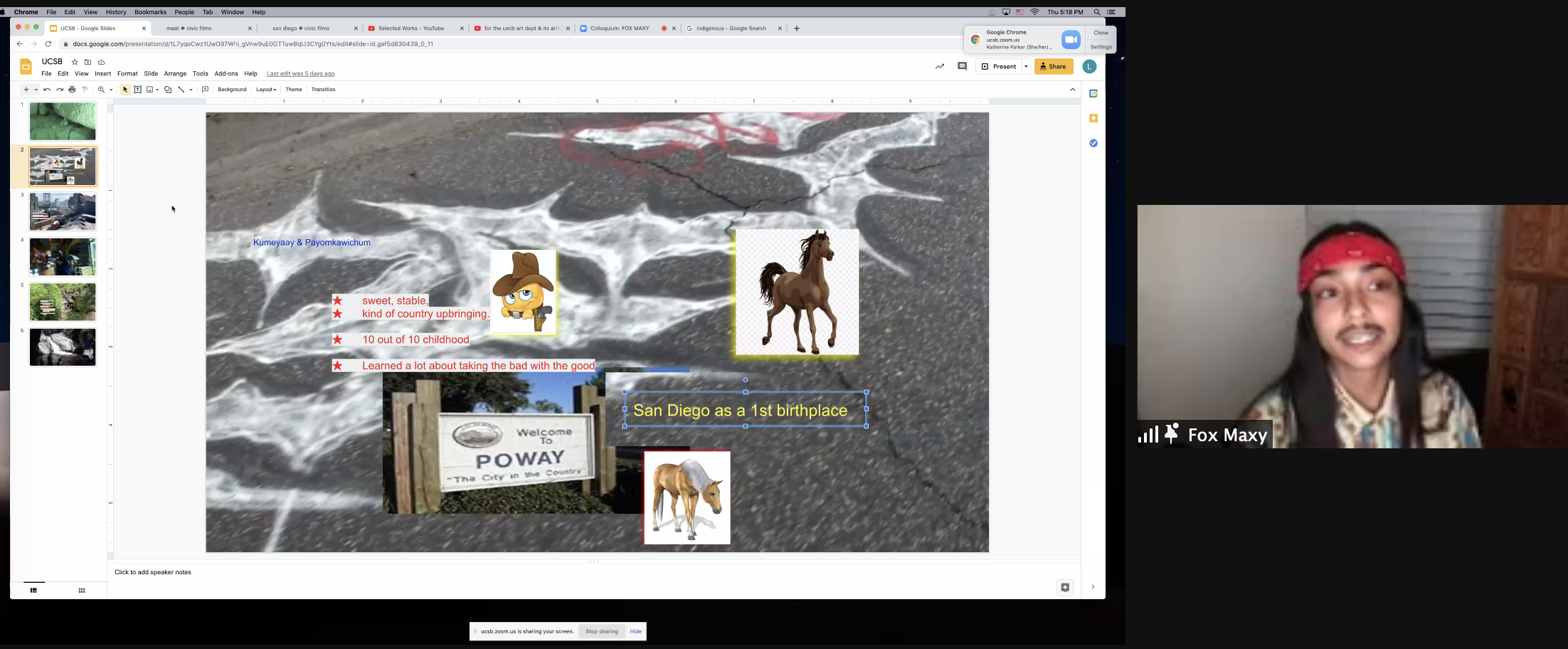 UCSB Department of Art
Visiting Artist Remote Arts Colloquium
Images published with the consent of Fox Maxy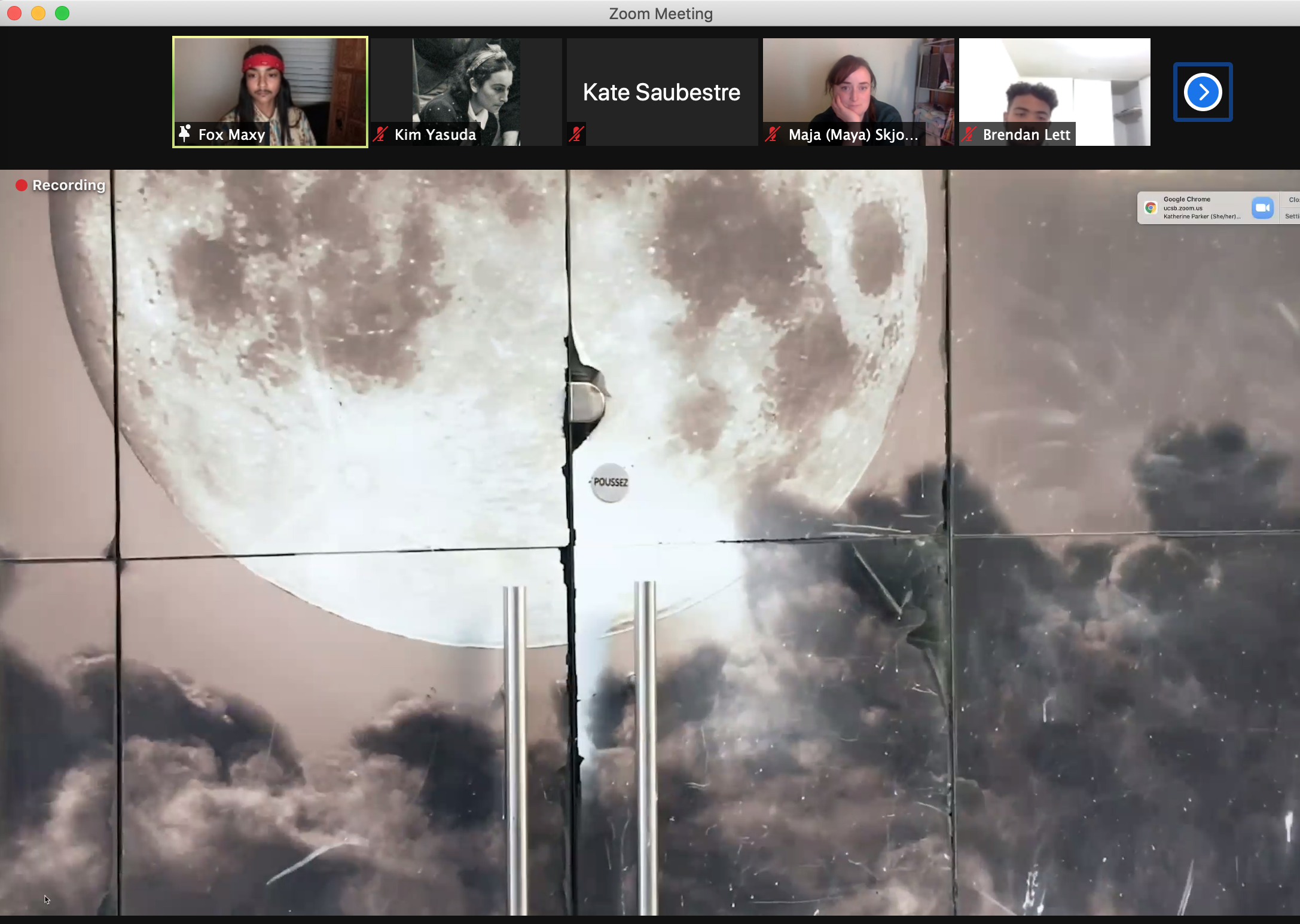 Instructor: Helen Taschian 
Teaching Assistant: Kate Saubestre
The UCSB Department of Art Spring 2021 Visiting Artist Colloquium features ten synchronous Artist Talks that are scheduled each Thursday evening from 5:00-6:50 (April 1 through June 3).
The program offers a wide range of voices in dialogue, exploring the topics of contemporary art, theory, and cultural production by emerging and established visiting artists, as well as members of UCSB's own campus faculty.
Thursday, April 1: Nick Crockett
Nick Crockett is an animator and game developer from the foothills of the Sierra Nevada mountains. His lovingly crafted virtual worlds use tropes from fantasy and science fiction to reinterpret and reimagine America's national myths about whiteness, pioneers, progress, and the relationship between society and nature.
He has an MFA from the Carnegie Mellon School of Art and has been a long time member of the UCLA Game Lab. He has exhibited games and animation at venues including the Victoria and Albert Museum, London; The Carnegie Museum of Natural History, Pittsburgh; Northern Spark Festival, Minneapolis; Now Play This Festival, Somerset House, London; and the UCLA Game Art Festival at the Hammer Museum in Los Angeles.  https://ncrockett.com
Thursday, April 8:  Alisha Wormsley
Alisha B. Wormsley (Pittsburgh, PA, USA) is an interdisciplinary artist and cultural producer. Her work is about collective memory and the synchronicity of time, specifically through the stories of women of color, more specifically Black Women in America. Wormsley is an artist who has worked in communities around the world, helping to develop artistic ideas, celebrate identities, and organize public art initiatives for national and international audiences. Wormsley's work has received a number of awards and grants to support programs namely the Children of NAN film series and archive, and There Are Black People In The Future. Her work has exhibited globally. Over the last few years, Wormsley has designed several public art initiatives including Streaming Space, a 24 foot pyramid with video and sound installed in Pittsburgh's downtown Market Square, and AWxAW, a multimedia interactive installation and film commission at the Andy Warhol Museum. Wormsley created a public program out of her work, "There Are Black People In the Future", which gives mini-grants to open up discourse around displacement and gentrification and was also awarded a fellowship with Monument Lab and the Goethe Institute. In 2020, Wormsley launched an art residency for Black creative mothers called Sibyls Shrine, which has received two years of support from the Heinz Endowments. Wormsley has an MFA in Film and Video from Bard College and currently is a Presidential Post Doctoral Research Fellow at Carnegie Mellon University to research and create work rooted in matriarchal leadership and mysticism in the African-American community. https://alishabwormsley.com
Thursday, April 15: Collectivity Connectivity Speakers: Naiza Khan, Merv Espina, and Grupo Contrafilé
Collectivity | Connectivity 
This panel discussion features artists with individual practices but also work collectively and collaboratively. The invited speakers will discuss different models of collectivity, collaboration or partnership across the global south and in the U.S., present their artworks as the visual reflection of their social engagement and civic responsibility, and unpack how commonality and mutual aid are forms of political participation that can transform and sustain communities including the arts. The speakers will trace the formation of their associated collectives/initiatives that responded to particular historical moments or specific needs of their communities, reflecting on the experiences that can be learned from and re-imagined in different cultural and socio-political contexts, across time and terrain.
Bio:
Naiza Khan was trained in the UK and is based between London and Karachi. Khan's visual practice is built on a process of critical research, documentation and mapping-based exploration. Through a range of media, including drawing, archival material and video, she brings together ideas of embodiment and ecology.
In 2000, Khan co-founded the Vasl Artists' Collective, Pakistan which has worked to foster creative collaborations between artists in Pakistan, South Asia and beyond over the last two decades. Khan represented Pakistan at the inaugural pavilion of Pakistan, 58th Venice Biennale, 2019. Her work has been exhibited widely, including her retrospective, Karachi Elegies, Broad Art Museum, Michigan (2013), the Lahore Biennale 02 (2020), the Asia Pacific Triennial of Contemporary Art, Brisbane (2018); Kochi Muziris Biennale (2016); Shanghai Biennale (2012); and Cairo Biennale (2010). Khan received the Prince Claus Award (2013) in recognition of her work in the field of art and culture. She is currently a research candidate at the Centre for Research Architecture, Goldsmiths and works between London and Karachi.
Merv Espina is an artist and researcher based in Metro Manila. His investigations capitalize on uncomfortable situations to poke holes in history, misrepresentation politics, and the anxieties of archives – resulting in installations and screenings, seminars and zines, music and writing anthologies, pirate radio hacks, noisy choreographies, food fiestas, perfume production, among other whatnots and processes. His less random art experiments have found themselves in the Jakarta Biennale 2015 and Yokohama Triennale 2020. He co-initiated the DIY platforms Kalampag Tracking Agency (2014) and Kamuning Public Radio (2016), janitorializes for the WSK Festival of the Recently Possible (founded in 2008), and was the program director at Green Papaya Art Projects (2010-2020). Besides gritty grassroots organizing, he was also in the more manicured curatorial teams of SUNSHOWER: Contemporary Art from Southeast Asia 1980s to Now (Tokyo, 2017), the 15th biennial VIVA EXCON (Roxas, 2018), and Motions of this Kind (London, 2019).
Grupo Contrafilé was formed in São Paulo, Brazil, in the year 2000, Grupo Contrafilé is a collective of art-politics-education production focused on encounters with different people, groups and communities, always from a critical and cartographic perspective and having as main subject of its work listening and performing affections and urgencies. Among its projects are Program for the De-turnstilization of Life itself (2004) and The Children's Rebellion (2005) – which gave rise to Park to Play and Think (2011) and Backyard (2013); The Tree-School (2014) and The Battle of the Living (2016). Currently, Contrafilé develops the School of Testimonies project (2019-2021). The group participated in several exhibitions, such as: Meta-Archive 1964-1985 – Space for Listening and Reading Dictatorship Stories (Memorial of the Resistance/Sesc, 2019), Talking to Action – Art, Pedagogy and Activism in the Americas (USA, different locations, 2017-2019), Playgrounds 2016 (MASP), 31st São Paulo Art Biennial (2014), Radical Education (Slovenia, 2008), If You See Something Say Something (Australia, 2007), La Normalidad (Argentina, 2006), Collective Creativity (Germany, 2005).
Thursday, April 22: Tiffany Chung and Zoe Butt
For the first part of the event, Chung will present her diverse repertoire of projects that both utilize and subvert some of the institutions of power – the map, archive, and official history – to unpack and remap memories of wars, nation building, progress, and disasters that induce displacement and forced migration. Tiffany Chung and Zoe Butt will then discuss Chung's biographical journey of transformative events that shaped her visual language, interdisciplinary and research-based practice, and commitment to amplifying the memories and histories of disenfranchised and invisible groups. They will also delve into the conundrums of figuring out the roles of aesthetics in civic work, as well as questioning whether art ceases to exist when it yields to functioning as social practice.
Bio:
Tiffany Chung (Vietnam/USA) is internationally noted for her research-based installations and cartographic works that examine conflict, migration, urban transformation and environmental impact in relations to the history of specific places. Her work remaps historical and cultural memories of traumatized topographies, creates interventions into the political narratives produced through statecraft with people's remembrance, and unpacks the root causes of forced migration and its inextricable link to political, social, economic and environmental processes. Chung was awarded the Sharjah Biennial Artist Prize (2013), named Jane Lombard Fellow for Art & Social Justice at the Vera List Center, New School (2018-2020), and honored with the 2020 Asia Arts Game Changer Awards India by Asia Society.
Selected museum exhibitions and biennials include: Tiffany Chung: Vietnam, Past Is Prologue, Smithsonian American Art Museum, D.C. (2019); Artists Reflect: Contemporary Views on the American War, Minneapolis Institute of Art (2019); New Cartographies, Asia Society, Houston (2018); 21st Biennale of Sydney (2018); Gwangju Biennale (2018); Detours, Nobel Peace Center, Oslo (2017); Insecurities: Tracing Displacement and Shelter, MoMA, New York (2016); XIII Bienal de Cuenca, (Ecuador, 2016); 10th Taipei Biennial (2016); EVA International – Ireland's Biennial (2016); Illumination, Louisiana MoMA (Denmark, 2016); All The World's Futures, 56th Venice Biennale (2015); Residual: Disrupted Choreographies, Carré d'Art – Musée d'Art Contemporain, Nimes (France, 2014); Sharjah Biennial (UAE, 2013); Asia Pacific Triennial, Brisbane (2012); Six Lines of Flight, San Francisco MoMA (2012). Picture: Tiffany Chung working with refugee children in Traveling with Art, Louisiana MoMA, Denmark, 2017
Zoe Butt is a curator and writer who lives in Ho Chi Minh City. Her practice centres on building critically thinking and historically conscious artistic communities, fostering dialogue among cultures of the globalizing souths. Currently Artistic Director of the Factory Contemporary Arts Centre, Ho Chi Minh City, Zoe formerly served as Executive Director and Curator, Sàn Art, Ho Chi Minh City (2009–2016); Director, International Programs, Long March Project, Beijing (2007–2009); and Assistant Curator, Contemporary Asian Art, Queensland Art Gallery, Brisbane (2001–2007) – this latter post particularly focused on the development of its Asia-Pacific Triennial of Contemporary Art. Her work has been published by Hatje Cantz; ArtReview; ArtAsiaPacific; Lalit Kala Akademi; JRP-Ringier; Routledge; and Sternberg Press, among others. Notable endeavours include Realigning the Cosmos (2020-); Pollination (2018-); Sharjah Biennial 14: Leaving the Echo Chamber – Journey Beyond the Arrow, (2019); Conscious Realities (2013-2016); Embedded South(s) (2016) and San Art Laboratory (2012-2015). Zoe is a member of the Asia Society's 'Asia 21' initiative; a member of the Asian Art Council for the Solomon R. Guggenheim Museum; and in 2015 was named a Young Global Leader of the World Economic Forum. Photo: Courtesy of Lê Thành Tiến, 2020
Thursday, April 29: Theaster Gates
Arts & Lectures Buy Tickets Here (Free for students)
Registration Required:
https://artsandlectures.ucsb.edu/Details.aspx?PerfNum=4596
Theaster Gates:
Conversation UCSB
Arts Colloquium
Thursday, April 29 from 6:15– 7:15pm PT
Zoom Link:
https://ucsb.zoom.us/j/857395946 58?pwd=TWw4V3pGVDJscEVBVVN3 bkQ5d3NFZz09
Meeting ID: 857 3959 4658
Passcode: 175372
An artist, musician and cultural planner, Theaster Gates creates works that engage with space theory and land development, sculpture and performance. Drawing on his interest and training in urban planning and preservation, he redeems spaces that have been left behind, upturning art values, land values and human values. Gates is a professor at the University of Chicago and founder and president of Rebuild Foundation, which restores the cultural foundations of underinvested neighborhoods and incites movements of community revitalization. The winner of Artes Mundi 6, Gates is also a recipient of the Nasher Prize for Sculpture, the Urban Land Institute Prize for Visionaries in Urban Development and France's Légion d'Honneur, and was recently named co-chair of fashion label Prada's Diversity and Inclusion Advisory Council. This presentation will be followed by a moderated Q&A. https://www.theastergates.com
Thursday, May 6: Piotr Szyhalski
Polish-born, U.S.-based multimedia artist Piotr Szyhalski has in the past decade established the Labor Camp—an ongoing art project that includes interactive components (digital and physical), original music, performances, videos, printed ephemera, texts, a blog, and an archive of online resources.
Moving between fine arts (painting, photography, drawing, installation), sound, media art, and design, Szyhalski's multilayered works often explore communication/exchange, extreme historical phenomena, and relationships between the individual and society/history/time. His work has been exhibited worldwide at such venues as the International Center of Photography, the New York Expo Film Festival, Siggraph, ISEA Paris, the Museum of Contemporary Photography in Chicago, the San Jose Museum of Art, and Experimenta Design in Lisbon, Portugal, and featured in a variety of catalogues and publications. Pieces are in the collections of the Walker Art Center, the Museum of Fine Arts, Houston, and others.
In addition to his own performance-based projects, he was commissioned to develop large-scale interactive, live projections for Wim Mertens quartet in Brussels (1998), the Atlanta Symphony Orchestra (2001), and VocalEssence (2004). He recently released two CDs as Labor Camp Orchestra for the multimedia installations Theater of Operations (2007, 2009). Szyhalski is the recipient of the 2009–2010 and 2017-2018 McKnight Artist Fellowship for Visual Artists. https://mcad.edu/faculty/piotr-szyhalski
Thursday, May 13: Jen Delos Reyes
Jen Delos Reyes is a creative laborer, educator, radical community arts organizer, and author of countless emails. Her practice is as much about working with institutions as it is about creating and supporting sustainable artist-led culture.
She is the author of "I'm Going to Live the Life I Sing About in My Song: How Artists Make and Live Lives of Meaning", a book exploring the artist impetus toward art and everyday life and "Everything You Always Wanted to Know About Public Engagement* *But Were Afraid to Ask."
Delos Reyes is the founder of Open Engagement (OE), an artist-led initiative committed to expanding the dialogue around and serving as a site of care for the field of socially engaged art. She is defiantly optimistic, a friend to all birds, and proponent that our institutions can become tender and vulnerable. She currently lives and works in Chicago, IL where she is the Associate Director of the School of Art and Art History at the University of Illinois Chicago, where she teaches in the Department of Art and Museum and Exhibition Studies. Photo credit: Chelsea Ross
Thursday, May 20:  Trulee Hall
Trulee Hall was born in 1976 and raised near Atlanta, Georgia. She received her BFA from Atlanta College of Art in 1999 and her MFA from CalArts in 2006. Hall's richly textured practice spans video, painting, sculpture, sound, dance, and immersive installation, regularly employing diverse technical skills honed through in-depth experience in various creative industries.
Hall was a sculpture major in undergrad where she learned as many fabrication skills as possible. During school she also held many jobs, such as building sets and props for television, conventions and amusement parks. Her fascination with world making and storytelling opened up even more when she discovered the power of stop motion animation. With animation she could bring whole new realms to life in miniature that defy the limits of reality.
Over time, Hall developed a complex video practice involving immersive sets, live happenings, elaborate costumes, puppetry, claymation, and CGI. Her choreographed videos involving non-narrative, surreal, philosophical and symbolic systems employ a fiercely playful sense of humor, a patient appreciation for the mundane, and a love of the absurd. Her paintings, sculptures, performances and installations integrate with and inform facets of her videos and soundtracks in an overarching body of work.
Hall currently has a major solo museum show at the Zabludowicz Collection in London 2020/2021, where she also composed, directed and performed a live opera in March 2020. Hall has another solo museum show at Villa Schöningen opening in April 2021. Hall's first solo gallery exhibition, 'The Other and Otherwise', was held at Maccarone, Los Angeles in 2019. Other recent projects include her Infestation video & multistory sculptural installation at Paramount Studios for Frieze Projects (curated by Ali Subotnick) as part of the inaugural Frieze Los Angeles Art Fair (2019). Her work was featured in All of Them Witches curated by Laurie Simmons and Dan Nadel at Deitch Projects, Los Angeles.  Other venues for her exhibitions and screenings include, the Rubell Museum, Miami,  the Hammer Museum, Los Angeles, Museum of Contemporary Art, Los Angeles Redcat, Los Angeles, Los Angeles Contemporary Exhibitions (LACE), Los Angeles Nomadic Division (LAND), Human Resources Los Angeles, Marjorie Barrick Museum of Art – University of Nevada, Las Vegas, Michael Benevento Gallery, Los Angeles, OUTFEST LA, The Museum of Contemporary Art, Chicago, Billy Wilder Theatre, Hammer Museum of Art, Yale Union, Portland, Oregon,  Daata Editions, London among other numerous exhibitions and screenings internationally. She has work in the permanent collection at Museum of Contemporary Art Los Angeles, , the Hammer Museum in Los Angeles, The Rubell Family Collection in Miami,  the Zabludowicz Collection in London, the Villa Schöningen in Berlin among many other prominent private collections. She lives and works in Los Angeles and is currently working on a musical film/installation.   https://www.truleehall.com
Thursday, May 27: Silas Munro, Poly-mode, Brian Johnson, Tasheka Arceneaux Sutton, Pierre Bowins, and Tanvi Sharma

Poly-mode applies design to inspire people to better themselves and improve society. Our studio helps organizations embrace cultural diversity and increase community involvement. Our collaborators include: The Baltimore Museum of Art, Mark Bradford, The Center for Urban Pedagogy, the Hillary Clinton Presidential campaign, Housing Works, MoMA, The Phillips Collection, the Wynwood Arts District in Miami, FL, and the U.S. Department of States Bureau of Cultural Affairs.
Silas Munro, poly-mode, founder
Munro's design work and writings have been published in many forms at home and abroad. As an educator, he focuses on expanded design studies. He has been a critic and lecturer at many internationally ranked art and design programs including CalArts, Maryland Institute College of Art (MICA), NC State, RISD, and the Yale School of Art. Munro serves as Assistant Professor in Communication Arts and MFA in Graphic Design at Otis College of Art and Design, and Advisor and Chair Emeritus in the MFA Program in Graphic Design at Vermont College of Fine Arts. He holds a Master of Fine Arts from California Institute of the Arts (CalArts) and a Bachelor of Fine Arts from Rhode Island School of Design (RISD). Photo: Fred Spigelman
Brian Johnson, poly-mode, partner
Brian guides his clients on a process-based journey that yokes together ink, paper, typography, images, photography and other media to craft unique design. The final work tells the story of his clients in their voice, often in a way that they had never bear considered, but that rings true and clear. Brian draws on the beauty in all things and all experiences to tell the truth of his clients' stories. He fuses together his skills as an artist, researcher, teacher, designer, detective, brainstormer, consultant, and a maker of things, while holding space for his clients as they together invent something that has never before existed. Self-taught and schooled in many art forms from an early age, Brian later formalized his design education at Rhode Island School of Design (RISD). Here he learned his craft from the foundation up, as well as the critical skills of process, which, more than anything, are the underpinnings of every great design. His approach to design is creation always – and all ways. Photo: Anna Maynard. https://poly-mode.com
Tasheka Arceneaux Sutton is an Associate Professor of Graphic  Design and faculty in the MFA Program in Graphic Design at Vermont College of Fine Art. Tasheka is the principal of Blacvoice Design a studio that specializes in book design, identity design, illustration, and publication design for small businesses, educational institutions, and nonprofit organizations. Tasheka's research focuses on the discovery of Black people whose work has been omitted from the graphic design history canon. She's also interested in the visual representation of black people in the media and popular culture, especially through the lens of stereotypes. The use of typography has a strong presence in her work—she is a type enthusiast who enjoys hand-lettering, typesetting, and deconstructing type through a combination of analog and digital processes. Tasheka holds an MFA from CalArts, where she also worked as a graphic designer in the office of Creative Services and a BA in English Writing from Loyola University New Orleans.
PIERRE BOWINS is Assistant Professor in Studio Arts at the University of Maryland Eastern Shore. His twenty-plus years in the field of design have provided him with a broad view to prepare students for the future of emerging trends in Art and Design's contemporary practice. Pierre is a life- long maker, educator and self-proclaimed design historian. His design and teaching methods utilize research-based theories to assist in the discovery of personal, cultural, and historical identities while implementing design ideas within analog and digital media. His research largely focuses on ex- ploring the history of graphic design and investigating the omission that exists within design history. Pierre holds a Master of Fine Arts from Vermont College of Fine Arts and a Bachelor of Fine Arts from Maryland Institute College of Art. He has been an active member of his local Americas Insti- tute of Graphic Arts, College Arts Association, and University and College Designers Association.
https://pbowinsdesign.wixsite.com/pbdesign
TANVI SHARMA is a designer collaborating with studios and communities to create progressive and interdisciplinary experiences — web platforms, programs, books and so much more. Sharma was born and raised in New Delhi, India but have been practising on the U.S. East Coast and the social internet for the previous half decade.
Sharma notes, "When I am not designing to explore alternative ways of understanding the conver- gence of the social experience, aesthetics & language, I am reading and gardening with my peers to build solidarity and thoughtfulness."
Thursday, June 3: Rashaad Newsome
Zoom Link: https://ucsb.zoom.us/s/86297946614
Rashaad Newsome's work blends several practices, including collage, sculpture, film, photography, music, computer programming, software engineering, community organizing, and performance, to create an altogether new field. Using the diasporic traditions of improvisation, he pulls from the world of advertising, the internet, Art History, Black and Queer culture to produce counter-hegemonic work that walks the tightrope between social practice, abstraction, and intersectionality. Collage acts as a conceptual and technical method to construct a new cultural framework of power that does not find the oppression of others necessary. Newsome's work celebrates Black contributions to the art canon and creates innovative and inclusive forms of culture and media.
Newsome lives and works between Brooklyn New York City and Oakland California. He was born in 1979 in New Orleans, Louisiana, where he received a BFA in Art History at Tulane University in 2001. In 2004, he received a certificate of study in Digital Post Production from Film/Video Arts Inc. (NYC). In 2005 he studied MAX/MSP Programming at Harvestworks Digital Media Art Center (NYC). He has exhibited and performed in galleries, museums, institutions, and festivals throughout the world including The Studio Museum in Harlem (NYC), The National Museum of African American History and Culture (DC), The Whitney Museum (NYC), Brooklyn Museum (NYC), MoMAPS1 (NYC), SFMOMA (CA), New Orleans Museum of Art (LA), Centre Georges Pompidou (Paris), The Garage Center for Contemporary Culture (Moscow), and MUSA (Vienna). Newsome's work is in numerous public collections including the Studio Museum in Harlem, Whitney Museum of American Art (NYC), The Brooklyn Museum of Art (NYC), The San Francisco Museum of Modern Art, Los Angeles County Museum of Art, McNay Art Museum (TX), The Chazen Museum of Art (WI), National Museum of African American History and Culture (DC) and The New Britain Museum of American Art (CT). In 2010 he participated in the Whitney Biennial (NYC), and in 2011 Greater New York at MoMAPS1 (NYC).
His many honors and awards for his work include a 2020/2021 Stanford Institute for Human-Centered Artificial Intelligence artist residency, 2020 Eyebeam Rapid Response Fellowship, 2019 MAP Fund grant, a 2019 LACMA Art + Technology Lab Grant, a 2019 BAVC MediaMaker Fellowship, a 2018 William Penn Foundation Grant, the 2018/2019 Live Feed Creative Residency at New York Live Arts, a 2017/2018 Pollock-Krasner Foundation Grant, a 2017 Rush Arts Gold Rush Award, the 2016 Artist-in-Residence at the Tamarind Institute, NM, the 2014 Headlands Center for the Arts Visiting Artist Residency, a 2011 Louis Comfort Tiffany Foundation Award, a 2010 Urban Artist Initiative Individual Artist Grant, and a 2009 Rema Hort Mann Foundation Visual Arts Grant.