Fall 2022 VISITING SPEAKERS CALENDAR  
The UCSB Department of Art Visiting Artist Colloquium features ten Artist Talks that are scheduled each Thursday evening from 5:00-6:50 (September 22nd through December 1st) in UCSB's Embarcadero Hall in Isla Vista. All lectures are free and open to the public.  For directions to the location, please see this campus map.
Next up: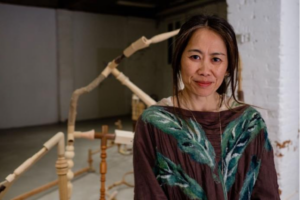 Shirley Tse | December 1st
Hong Kong–born, California– based artist Shirley Tse works in the media of sculpture, installation, photography, and text. She at once deconstructs the world of synthetic objects that carry paradoxical meanings and constructs models in which differences might come together. To visualize heterogeneity, Tse conflates different scales, fuses the organic with the industrial, moves between the literal and the metaphorical, merges narratives, and collapses the subject and object relationship. Tse received a Master of Fine Arts degree from ArtCenter College of Design, Pasadena, California, and a Bachelor of Arts degree from the Chinese University of Hong Kong Department of Fine Arts. Her work has been exhibited at venues including: M+ Pavilion, Hong Kong (2020); the Pasadena Museum of California Art (2004/2017); Osage, Hong Kong (2010/2011); K11, Hong Kong (2009); Kettle's Yard, University of Cambridge (2009); the Museum of Modern Fine Art, Minsk (2006); the Herbert F. Johnson Museum of Art, Cornell University (2005); Para Site, Hong Kong (2000/2005); the Kaohsiung Museum of Fine Arts (2003); the Art Gallery of Ontario, Toronto (2002); the Bienal Ceará América, Fortaleza (2002); the Biennale of Sydney (2002); Capp Street Project, San Francisco (2002); the Institute of Contemporary Art, Boston (2002); MoMA PS1, New York (2002); the New Museum, New York (2002); Palazzo dell'Arengo, Rimini (2002); the San Francisco Museum of Modern Art (2001); TENT, Centrum Beeldende Kunst Rotterdam (2001); and Govett-Brewster Art Gallery, New Plymouth, New Zealand (2000). Tse represented Hong Kong at the 58th Venice Biennale. Her work is featured in many articles, catalogues, and other publications including 'Akademie X: Lessons in Art + Life' (2015) and 'Sculpture Today' (2007). Tse received the John Simon Guggenheim Memorial Foundation Fellowship in 2009 and has been on the faculty at California Institute of the Arts since 2001, where she held the Robert Fitzpatrick Chair in Art from 2018 to 2021.
Shirley Tse photographed by Hendrik Vorster