Now open in the Glassbox Gallery: Still Free
Posted on
January 22, 2018
Monday January 22nd -Friday January 26th, 2018
Opening Reception: January 26th, 2018
Robert Huerta
Madeleine Ignon
Jimmy Miracle
Elisa Ortega Montilla
Toni Scott
(Isla Vista, CA)​– ​The GLASSBOX is pleased to present ​Still Free, ​in which three generations of artists are celebrated for demonstrating the resilience of the Creative spirit, in spite of living within a series of seemingly perpetual crises. This is not an attempt at cataloguing an accurate representation of Protest amidst the emotional ambivalence and fragile national identity of this current historical moment, but every impulse to make in the face of multiple compounding collective hardships should be recognized as an important Political gesture.
Similar to the divergent histories and backgrounds of each artist, their studio, social, and virtual practices are all emblematic of Expression–in all of its diversity– which is currently under siege from within and without the institutions it operates in alignment with.
Not all of us are avatars looking for a heroic journey within a simulated space. Not all of us have found the beauty within ourselves that has been historically relegated to a few. We cannot all attest to the joy of feeling free and seeing that freedom sprawled out on the floors, walls, and ceilings we pass through. We do not all know the tension of delicately balancing our bodies, while our insides are crumbling. We have yet to all recognize the hypocrisy of power and collectively find an appreciation for the will to see its symbols burned and resurrected. Not all of us are running from an imperfect past to a better future. Yet, all of us, each and every one of us, still has a voice with which to collectively chant:
I am still here, I am still free, in spite of it all, I am still free…
Thank you to: Carol Talley, Trela Cowan, Diego Auschtetter, Joel Sherman, Venessa Horneman, Troy Small, Dick Hebdige, Kim Yasuda, Laurel Beckman, The Santa Barbara Independent, The 2018 Honors students in the Art Department of the University of California Santa Barbara (UCSB), The University of California, and everyone else whose time and energy contributed to the success of this venture.
The GLASSBOX Gallery consists of spaces A and B within Rm 1328 on the first floor of the Arts Department at UCSB, as well as Rm 1330 located to immediately beside said spaces. Daily parking passes are available at each campus parking lot with a visitor section. The closest and most convenient parking lot to the Gallery is Parking lot 23. Admission to the Gallery is free, always and to everyone.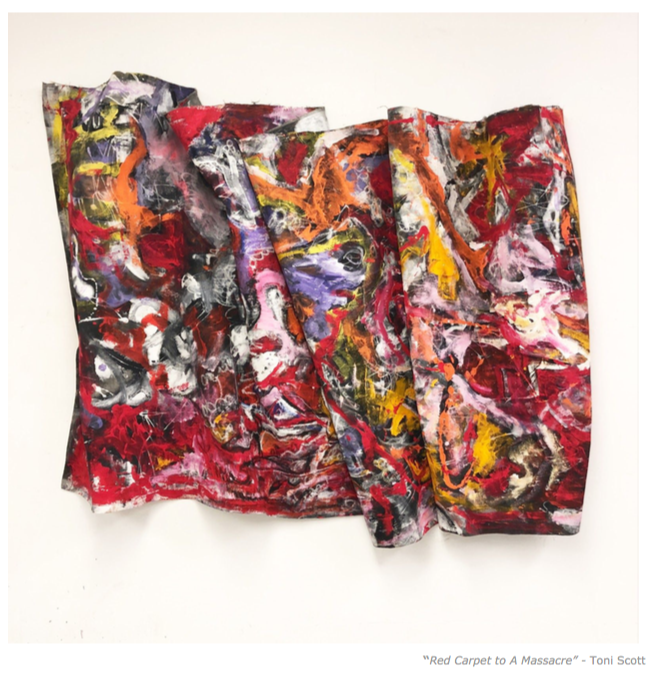 ||GLASSBOX GALLERY||
---
CONTACT: gallery​.glassbox@gmail.com